Sergio Caballero
02-02-2011 22:30 Pathé 4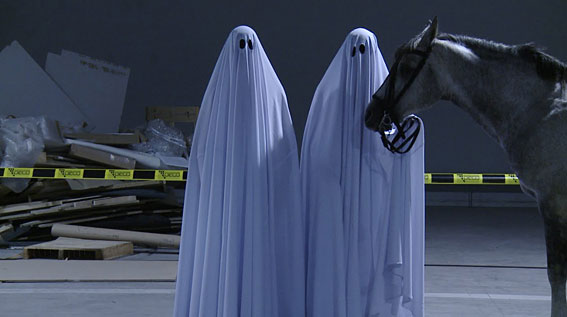 Mijn collega's en ik,
we agree to disagree
.
Finisterrae
is zó idiosyncratisch, dat er eigenlijk maar twee mogelijkheden zijn: je haat het of je houdt ervan. Ik behoor tot die laatste categorie. Twee kersverse, onwennige geesten - het klassieke cartoonbeeld van witte lakens met gaatjes voor de ogen is hier letterlijk overgenomen - besluiten een roadtrip te ondernemen die ertoe moet leiden dat ze weer mens worden. In die eerste vijf minuten, waarin de spoken deze premisse met lijzige stem declameren, kan Caballero's film nog alle kanten op. Onverteerbare arthouse of geniale gekte, het is allemaal mogelijk. Maar vanaf het moment dat een prachtig totaalshot toont hoe één van hen, met heroïsche wapperend laken, te paard zijn lot tegemoet galoppeert, en de ander er in een rolstoel achteraan hobbelt, heeft de film mij. Wie zich dan niet kan overgeven aan de volstrekt eigenzinnige humor die de film kenmerkt (aria's zingende hippiemeisjes en jaren-80-video's die worden aangetroffen in een oude boom *) of kan genieten van het door prachtige fotografie gedragen statische tempo, is verloren voor de film.
Gehoorde vergelijkingen met
Symbol
zijn niet helemaal op zijn plaats -
Monty Python
is een beter referentiekader - maar
Finisterrae
is de terechte winnaar van een Tiger Award.
* Typisch jaren 80 volgens één van de spoken: een muis in een blender.