De week van de interactieve cartoon
Crossmediale expositie in Lambiek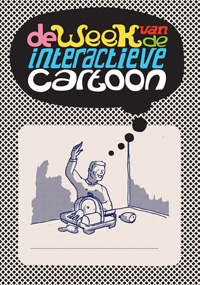 Cartoons maken makkelijk? Wellicht denk je dat een goed getekende grap zó gemaakt is. In de week van de interactieve cartoon kun je bewijzen of je het juiste gevoel voor humor hebt om cartoonist te zijn.
Vanaf vrijdag 29 januari tot en met vrijdag 5 februari is de crossmediale expositie 'De Week van de Interactieve Cartoon' te zien. In de Amsterdamse stripspeciaalzaak Lambiek en op de website Cartoon.blog.nl wordt gelijktijdig het werk van een tiental cartoonisten tentoongesteld. De bezoeker van de winkel of de site heeft de schone taak om een passende tekst bij de cartoons te verzinnen.
De verzonnen tekst kan naar dwvdic@gmail gestuurd worden. Uit alle inzendingen kiest de jury - bestaande uit Lambiek-eigenaar Boris Kousemaker en cartoonisten Robert Schuit en Guido Bootz - bij iedere cartoon een winnaar. De winnaar wint de cartoon met zijn tekst eronder. De winnaars worden op vrijdag 5 februari bekendgemaakt in Stripwinkel Lambiek dat gehuisd is op Kerkstraat 132 te Amsterdam).
De week van de interactieve cartoon is een initiatief van stripmaker Robert Schuit (aka Bandirah) die zich liet inspireren door de Cartoon Caption Contest van het tijdschrift The New Yorker. De actie zet op ludieke wijze het cartoon.blog dat Schuit sinds mei vorig jaar beheert, in de schijnwerpers. De tentoongestelde cartoonisten publiceren dan ook niet toevallig allemaal op deze site: Bandirah, Kapreles, Argibald, Kito, Danibal, Michiel van de Pol, Roland Conté, Hallie Lama, De Rustende Jager en Humordenar.
Hieronder alvast de cartoon van Argibald om te oefenen: