Marvano – De joodse brigade
Dargaud, 48 pagina's, 15,95 per deel (hardcover)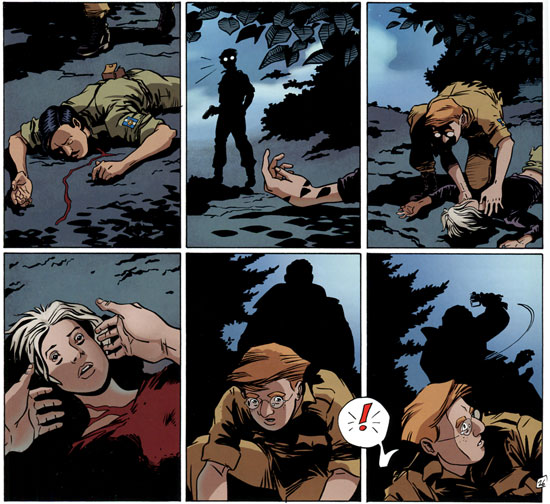 Marvano, ooit bekend geworden met sciencefictionstrips als Dallas Barr en De Eeuwige Oorlog, houdt zich nu al een tiental jaren onledig met de Tweede Wereldoorlog. De joodse brigade is intussen zijn derde trilogie rond dit onderwerp.
De joodse brigade
is een indirect vervolg op zijn vorige drieluik
Grand Prix
. Indirect, omdat het absoluut niet nodig is om die gelezen te hebben om van dit boek te kunnen genieten. Al is 'genieten' misschien een ongepast woord bij alle kommer en kwel die ons naar het hoofd gesmeten wordt.
Het verhaal begint vrij simpel: twee mannen, Ari en Leslie, maken deel uit van de joodse brigade, een legereenheid van het Britse leger, dat vooral bestaat uit Palestijnse joden. De twee zijn op zoek naar de moeder en verloofde van Leslie en mollen op doortocht links en rechts wat nazi's – wraak voor wat die tijdens de voorbije oorlog hebben uitgevreten.
De eerste twintig pagina's van het verhaal geven ten onrechte de indruk dat deze trilogie een simpel en clichématig wraakverhaaltje zal worden. Niets is echter minder waar. Marvano gebruikt Leslie's zoektocht om ons door de geschifte nasleep van WOII te loodsen. Leslie tuimelt van het ene interessante weetje in het volgende obscure feit. Sommige zaken zijn te gruwelijk of te fantastisch voor woorden: zo hadden de legereenheden die een concentratiekamp bevrijdden amper voedsel en medicijnen bij zich, en konden dus de overlevenden niet voldoende helpen – met nog vele honderden doden tot gevolg, zelfs na het vertrek van de nazi's. Wat ze wél hadden was enorm veel foto-apparatuur waarmee ze de gruwelen dan maar voor het nageslacht vastlegden. Of wat te zeggen van de enorme politieke knoeiboel die Israël was, net na de de bekendmaking van de soevereiniteit van deze joodse natie. Wat betreft Israël lukt het Marvano maar nét om onpartijdig te blijven: hij beperkt zich uiteraard tot feiten, maar belicht slechts één kant van het verhaal. Aangezien deze trilogie
De joodse brigade
heet, is dat echter niet vreemd te noemen.
Het ontbreken van een duidelijke plot heeft nog twee positieve effecten. Ten eerste overkomen de vele personages die erin rondlopen zeer onverwachte zaken. Omdat in principe alleen Leslie nodig is om de verhaalconstructie staande te houden, kunnen andere personages van het schouwtoneel verdwijnen op zeer plotse, banale of schokkende wijze. Gebeurtenissen die men niet van ver ziet komen hebben bij mij steeds een streepje voor op doorzichtige en clichématige verhaallijnen. Ten tweede draagt dit gegeven bij aan iets wat een strip over een onderwerp als dit maar het beste in pakken te bieden heeft: realisme.
Deze trilogie is misschien wel Marvano's meest schokkende en meest onderrichtende werk. Sommige mensen trekken misschien nu hun neus al op bij het lezen over een geschiedkundige strip waar je bovendien wat van leert. Dat is hun goed recht, vele striplezers lezen omdat ze geëntertaind willen worden, niet omdat ze een lesje historie willen. Maar Marvano weet zijn faction zeer goed te verpakken. De actie is overvloedig aanwezig, sommige scènes zijn nagelbijtend spannend en de meeste van de aanwezige feitelijkheden zijn van zo'n aard dat de beste scenarist ze niet had kunnen verzinnen.
Ook de tekeningen zijn van een hoog niveau. Marvano lijkt zijn stijl steeds verder uit te puren. Met steeds minder lijnen kan hij steeds meer vertellen. Dat komt ook de helderheid van de pagina's ten goede. Bovendien onderstreept deze helderheid de grootste kracht van Marvano: hij is een rasverteller met beelden. De flow en opbouw in zijn pagina's zijn van een ongekend niveau. Ergens in het verhaal zit bijvoorbeeld een montagepagina waarin Marvano met enkele simpele, maar duidelijke prenten zowel de voortgang van Leslie's reis als de naoorlogse geschiedenis overbrengt.
Eén minpuntje is de inkleuring: die is niet slecht, maar de overduidelijke digitale effecten om bijvoorbeeld kasseien weer te geven, vloeken met de rest van de strip. Dan liever een simpele, egaal gele zandweg.
Deze trilogie is een must voor mensen die een blik willen werpen op ongekende aspecten van WOII en tevens geschikt voor de puur naar ontspanning verlangende vrijetijdslezer. Alweer een schot in de roos.