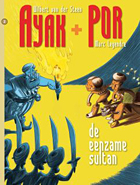 Toen het eerste deel van de amusante jeugdstrip Ayak + Por voor alle leeftijden uitkwam viel half striplezend Vlaanderen en Nederland zich een buil van verbazing. Tekenaar Wilbert van der Steen leek wel vanuit het niets als een voldragen debutant op de wereld geworpen te zijn. Dat was natuurlijk niet waar, want de goede man publiceerde al jaren in het fantastische P@per en tevens in het digitale Strike. Deel 2 van Ayak + Por bevestigt dat de reeks geen ééndagsvlieg is.
Het eerste deel van
Ayak + Por
was nog geen volledig album. Er was nog niet genoeg materiaal om een hele strip mee te vullen dus werd die aangevuld met Van der Steens interpretatie van
Peter en de Wolf
(blij toe want ook dat was een kunstwerkje). Dit tweede deel,
De eenzame sultan
, is het eerste volledige verhaal over de vreemde avonturen van Ayak en haar vrienden.
Het is een bont allegaartje dat deze strip bevolkt. Ayak zelf is een eskimootje, dan is er Por (een hond met zes poten), de professor en een geest in een lamp. Het viertal komt al meteen in aanraking met nog vreemdere figuren, want aan het einde van het vorige deel werden ze weggeflitst door de geest.
Ayak en haar vrienden zijn terechtgekomen in een soort sprookjes van 1001-nacht-achtige setting, compleet met een sultan en zijn wat rare zoon. Wanneer die zoon het marktplein betreedt dient iedereen zich te verstoppen. Niemand mag de jongen ontmoeten, want anders zouden ze kunnen ontdekken dat hij misschien niet meteen een geschikte opvolger van vaderlief is.
De jongen haalt constant de naam van bepaalde zaken door elkaar: een olifant is een giraffe, een banaan is een appel, enzovoort. In een reflex zou je kunnen denken dat dit vrij simpele humor is, maar scenarist Marc Legendre slaagt erin om met omwegjes, herhalingen en benaderingen vanuit de flank om dat soort grappen te doen slagen.
De charme van dit verhaal is dat elk personage een van de pot gerukte logica gebruikt om om te gaan met alles wat er gebeurd. De lezers worden om de oren geslagen met kromme redeneringen, vragen die een omwegje maken langs
Alice in Wonderland
en door LSD geïnspireerde stellingen. Socrates draait zich om in zijn graf, maar Lewis Carroll lacht zich vast een ongeluk, gelijk waar die zich nu bevindt.
De tekeningen neigen ook naar iets dat enkel kan voortkomen uit het inhaleren van één of ander lekker hallucinogeen en dat ligt vooral aan de inkleuring. De vlotte, expressieve en beweeglijke personages die uit Van der Steens potlood vloeien zijn een pracht voor het oog, maar de inkleuring maakt het af. Elk prentje wordt monochroom ingekleurd. Af en toe springt er een detail naar voor dat anders is ingekleurd. Het is met deze inkleuringstechniek dat Van der Steen zich een nog persoonlijker stijl heeft aangemeten.
De makers concentreren zich duidelijk ook niet enkel op een leespubliek van enkel kinderen. Op geniepige wijze smokkelen zij voor volwassenen herkenbare situaties het verhaal in. De absurditeit van politiek en mobiliteit bijvoorbeeld. Zo hebben de volwassenen meteen ook een reden om de strip te genieten na aankoop.
Ayak + Por
is dus geslaagd met vlag en wimpel en de makers kunnen nu beginnen bouwen aan een oevre van een album of tweehonderd, zoals die andere Van der Steen, maar dan zonder spaties in zijn naam. Misschien dat er iemand over zestig jaar dan een revamp van kan maken voor een volwassener publiek.