Pieter Coudeyzer - Woekeraar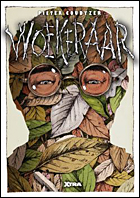 Pieter Coudeyzer dook vroeger hier en daar al op als maker van korte stripverhalen in Plots Stripmagazine en Stroke. Intussen oogste hij op het gebied van animatiefilms het ene succes na het andere. En nu is daar Woekeraar, zijn eerste volwaardige graphic novel.


Het verhaal van
Woekeraar
is even simpel als goed gevonden. Een man verandert langzaam in een boom. Hoe dat komt laat Coudeyzer wijselijk in het midden. Net zoals bij Kafka's personage Gregor Samsa is het waarom van de metamorfose belangrijker dan de gedaanteverwisseling zelf.
Het verhaal opent met Tom Deleersnyder die langzaam in zijn simpele apartementje zit te vertakken. De politie bonst aggressief op zijn deur maar Tom geeft geen krimp. In de plaats daarvan denkt hij terug aan zijn jeugd en de eenzaamheid die hem toen te beurt viel.
Tom, een wat dikkige jongen, is het kneusje van de klas. In simpele en daardoor des te doeltreffender scènes schetst Coudeyzer het leven van een pestslachtoffer. Kinderen kennen geen genade en de pesterijen worden alsmaar erger. Tot ze het op de spits drijven. Tom is stiekem verliefd op het mooiste meisje van de klas en wanneer de pestkoppen daar lucht van krijgen maken ze daar dankbaar gebruik van.
In een rudimentaire en schetsmatige stijl doorlopen we de kindertijd van Tom. Op een gegeven moment loopt hij verloren in een bos en daar begint zijn verstilling, zijn vlucht naar het innerlijke. Nadien springt het verhaal telkens enkele jaren verder. Tom zoekt werk, wat niet makkelijk is als halve boom, vindt een job en komt uiteindelijk zijn liefde uit lang vervlogen tijden opnieuw tegen. En dan loopt het mis. Meer vertellen zou zonde zijn.
De transformatie van Tom lijkt voort te komen uit zijn eenzaamheid, maar de veranderingen zelf distantiëren hem nog meer van zijn medemens. Zo schets Coudeyzer een net dat zich langzaam sluit rond Tom. Of is het net een deur die opengaat? Het antwoord op die vraag laat Coudeyzer aan de lezer over. Die kan dit boek dan ook op verschillende manieren lezen. Is de metamorfose van Tom een metafoor, gebeurt dit echt of is het slechts een waanbeeld van Tom? Coudeyzer dealt niet in antwoorden maar in zaken die tot nadenken stemmen.
Er zit heel veel voice-over in het verhaal en af en toe schuurt Coudeyzer tegen het navelstaarderige of pedante aan, maar hij weet die valkuil telkens net op tijd te ontwijken door de grote menselijkheid die hij tentoonspreidt en het mededogen dat hij heeft voor zijn personages. Hij slaagt er bovendien wonderwel in die over te brengen op de lezer.
Coudeyzers achtergrond in animatie schemert door in de pagina's, die soms iets weg hebben van storyboards. Het verhaal vloeit van de ene prent naar de andere, wat een zeer aangename en verstilde leeservaring oplevert. De trefzekerheid waarmee Coudeyzer zijn personages afbeeldt verraden op zijn minst ervaring van de auteur met pestgedrag. In het geval hij daar ooit het slachtoffer van was, hoop ik dat al zijn kwelgeesten dit boek lezen en deemoedig het hoofd buigen. Ze zullen niet anders kunnen.