(Scratch, € 27,90)
14-07-2015 00:00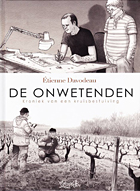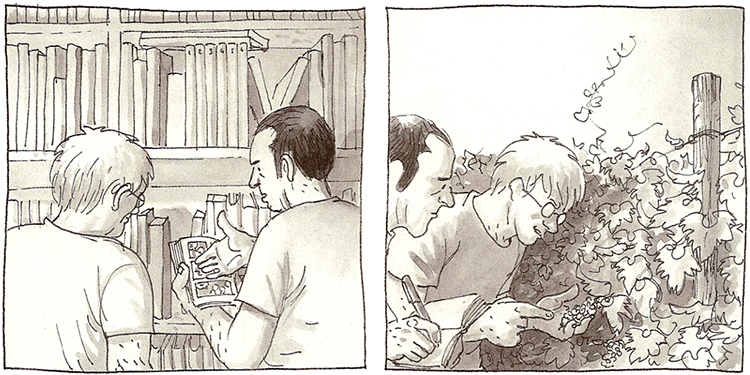 Als een auteur iets autobiografisch aan papier toevertrouwt, heeft dat vaak te maken met een trauma of andere levensveranderingen. De Franse stripmaker Étienne Davodeau pakt het anders aan en lijkt juist patent te hebben op het alledaagse leven. In de graphic novel
De Onwetenden
brengt hij op lichtvoetige wijze twee werelden samen: wijn en strip.
Étienne Davodeau is in Nederland niet zo'n grote naam. Slechts de trilogie
De vrienden van Saltie
l, het bejubelde
De Stroman
en de Vrije Vlucht-titel
De Val
wisten ons taalgebied te bereiken. Dankzij uitgeverij Scratch krijgt Davodeau's vertaalboom eindelijk een nieuwe loot. En wat voor eentje. Een boek dat ook de titel 'Wat hebben een fles wijn en een stripverhaal met elkaar gemeen?' had kunnen dragen. Het antwoord: meer dan je zou denken.
Étienne is al jaren bevriend met wijnboer Richard Leroy. Geen van beiden heeft affiniteit met het werk van de ander. Om hier verandering in te brengen stelt de stripmaker voor om een boek over het werk in de wijngaard van zijn kameraad te maken. Hij zal meewerken aan Richards wijnproductie. Hij wil wijnen leren proeven en erover voorgelicht worden. In ruil zal Richard dan de stripwereld onderzoeken, auteurs bezoeken, naar beurzen gaan en de strips lezen die Étienne hem voorschotelt. Een simpel uitgangspunt dat de vrienden dwingt om zich een jaar lang in elkaars wereld te verdiepen.
Étienne helpt met het snoeien van druiven, krijgt les over de grond waarop de wijngaard is gebouwd, gaat mee naar een bouwer van wijnvaten en bevriende brouwers, probeert goede en slechte wijn van elkaar te onderscheiden, en werkt mee aan de biologisch-dynamische besproeiing van de struiken in de vroege ochtend. Richard maakt op zijn beurt weer kennis met de wereld die strips heet. Samen bezoeken zij Futuropolis, de uitgever van het werk van Étienne, nemen ze een kijkje bij de drukkerij waar zijn boek
Lulu Femme Nue
net van de pers komt rollen, zijn ze te gast bij vakbroeders als Jean-Pierre Gibrat en Marc-Antoine Mathieu, en gaan ze naar 'Quai des Bulles', één van Frankrijk's grootste stripfestivals.
Beiden aanschouwen het werkveld van de ander vol verwondering. Dit levert soms hilarische momenten op. Zeker als Richard tijdens de grote Moebius-tentoonstelling concludeert dat het werk van deze legendarische tekenaar niks is. Of als Étienne met lichte argwaan aanhoort hoe een wijn oxideert. Davodeau heeft van deze kruisbestuiving een subtiel juweeltje gemaakt. De eenvoudige tekeningen en het stemmige palet van grijstinten vergroten het effect. Net als de tekenaar ben je als lezer een observerende partij op zoek naar de juiste kennis. Had hij uitgepakt met gedetailleerde overzichtsplaten, uitgewerkte decors of een groot kleurpalet, dan zou het geheel veel minder impact hebben. Vooral de rol van Richard raakt je als lezer. De tekenaar heeft hem geportretteerd als een flamboyante wijnboer zonder een parodie van hem te maken. Dit alles maakt
De onwetenden
niet alleen een boeiend stripverhaal, maar ook en vooral een gepassioneerde lofzang op Davodeau's vriend, de Franse wijnboeren en het vak van stripmaker. Proost.