Mark Bellido & Wouter Mannaert - El Mesías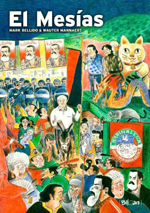 "Oei, oei, oei, bijna 300 pagina's en dan nog in zwart-wit. Dat verkoopt nooit!" Die zin, of iets gelijkaardigs, hoor, zie en lees ik hier en daar over El Mesías van Wauter Mannaert en Mark Bellido. Soms is die half grappend bedoelt of dient hij als tegengewicht voor de positieve recensie die erop volgt. Dat de lengte en het gebrek aan kleur redenen zouden zijn waarom een graphic novel niet zou verkopen is overigens bullshit. Mensen die graphic novels lezen laten zich niet beïnvloeden door dat soort details. Ook kan ik me niet voorstellen dat één of andere lulhannes het plan opvat om zich op het genre te storten waarna hij zich er walgend van afkeert wanneer hij op de hoogte gebracht wordt van het bestaan van strips zonder kleur. Als er al zulke mensen bestaan, dan verdienen zij nietdeze strip te mogen lezen. En de stroom aan superlatieven die doorgaans op de openingszin van die recensies van "El Mesías" volgen, zijn die dan terecht? Ja, of toch voor zo'n 98%...
Het verhaal in het kort: Jesús Hernandez, voormalig rijk en kapitalistisch bouwpromoter, verliest hebben en houden en trekt naar het dorpje Marinaleda. Dat dorpje wordt gerund door een charismatische en übercommunistische burgemeester Sánchez. Na wat strubbelingen wordt Jesús aanvaard door het dorp en begint hij een relatie met een vrouw van daar. De setting wordt heel nauwkeurig geschetst en de vele personages krijgen tijd om te groeien. De exploten van het dorp en de overenthousiaste burgemeester zijn (want deels gebasseerd op echte mensen en gebeurtenissen) beide interessant en entertainend. Het is duidelijk dat Bellido en Mannaert geen fan zijn van het ongebreidelde kapitalisme en de doorgedreven commercialiteit van vandaag. Dit verhaal had makkelijk kunnen verzanden in een saai ideologisch manifest, maar net voordat het boek prekerig wordt en zou kunnen vervallen in een eenzijdig, pro-links beeld doen de makers een meesterzet en laten ze barstjes verschijnen in het pantser van de extreemlinkse filosofie.
Ze doen dit aan de hand van de dochter van de vrouw waar Jesús Hernandez bij inwoont. Die wil niets liever dan naar de universiteit gaan en pronken met een dure jurk van de Zaza. Door middel van deze ingreep zorgen Bellido en Mannaert ervoor dat ze niet in de val trappen van het als perfect neerzetten van deze of gene denkwijze. We weten allemaal dat perfectie niet vrij in de natuur voorkomt en al zeker niet in het mensenrijk. De strubbelingen en verlangens van het meisje en de onwrikbaarheid van de burgemeester botsen keer op keer tot wanneer dat gevecht onvermijdelijk uitloopt op een dramatische climax. Mooi daaraan is dat geen van beiden personages voor de volle 100 procent staat voor "Het kapitalisme" of "Het socialisme". Zij zijn gewoon mensen, met alle foutjes erop en eraan.
Mannaert tekent in potlood en doet dat sfeervoller en met meer resultaat dan de gemiddelde stripleek zou kunnen bevroedden. Zijn werk is gigantisch expressief én maakt gulzig gebruik van de sterkste mechanismes van het stripmedium. Dat expressieve zijn we vooral terug in de scènes met de flegmatieke burgemeester. Zijn pathetiek, flair, pathos en ADHD-achtige doeningen worden door Mannaert perfect verbeeld met geluidseffecten, vluchtlijntjes, stofwolken, zweetdruppels en speekselklodders die in het rond vliegen. Een man die "Proef" als onomatopee gebruikt in zijn strip krijgt van mij de volle aandacht en goedkeuring.
En dan zijn er scènes zoals die waarin de burgemeester
Robin Hood
leest. Probeer dat maar eens in een roman of een film. Ook fantastisch: de scène waarin een standbeeld wordt neergehaald op het voormalige landgoed van Jesús Hernandez. Mannaert speelt hier met de verwachtingen van de lezer dat het een lieve aard heeft. Goed boek dus? Fantastisch boek! Waarom dan geen 100% positieve recensie? Het einde. De laatste paar bladzijden zijn er teveel aan. De makers hadden op tijd kunnen stoppen en dan hadden ze een boek gehad over mensen. Dan hadden ze een einde gehad zoals dat in het echte leven bestaat: grijs en dubbelzinnig. In de plaats daarvan volgt nog een sequens die carrément partij trekt, zonder veel ruimte voor twijfel. Alsof de lezer nog snel moest overtuigd worden van de waarde van het denken in een bepaalde richting. Op een boek van zoveel pagina's is dat echter een extreem klein minpuntje. Dus niet getalmd: naar de stripboer en kopen deze hap. U zal het zich niet beklagen!