Xavier Dorison, Emmanuel Herzet & Cédric Babouche - Zwanenzang deel 1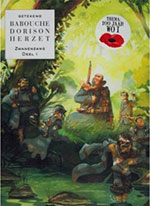 2014 is voorbij. Eindelijk verlost van al het hysterisch gedoe rond WOI. (Tot 2018 tenminste.) Ook in de stripwereld heeft men zijn best gedaan om op de kar te springen. Folies Bergère, De Oorlog van de Lulu's, Mevrouw Livingstone en wat weet ik nog allemaal. Daar zaten, uiteraard, goede en slechte strips tussen. Dit eerste deel van Zwanenzang valt in die eerste categorie.
Verbazingwekkend is dat niet. Co-scenarist Dorison heeft, wat mij betreft, nog nooit ondermaats werk geleverd. Met
W.E.S.T., Het Derde Testament
en
Long John Silver
onder de riem kan die man niet veel meer misdoen. Herzet, de tweede scenarist, is minder bekend maar schrijft ook een spin-off van
Alfa
. Zoiets geven ze vermoedelijk toch niet aan gelijk welke aap met een hoed op. Samen leveren beide heren een meer dan degelijk verhaal af. Over WOI is al lang geweten dat er heel wat onnodige en dwaze maneuvres werden bevolen door de mensen aan de top. Maneuvres die een hoop koene soldaten het leven gekost hebben. In
Zwanenzang
komt er één van die soldaten op het idee om een petitie op te stellen tegen hij die de waanzinnige offensieven beveelt: het hoofd van de Assemblé.
Op zich een goed idee, ware het niet dat het ondertekenen van zo'n document gelijk staat aan insubordinatie en dat staat dan weer gelijk aan de dood met de kogel. Een groep soldaten krijgt het document toevallig in handen en beslist om, het koste wat kost, in Parijs te bezorgen. Die groep soldaten bestaat op het eerste gezicht uit een hoopje cliché's: de zwijgzame, stugge chef met een geheim, de dikke bange wezel, het jonge groentje, … Maar Dorison en Herzet slagen er gaandeweg in om hun personages de nodige diepgang te geven. Die psychologische uitwerking gecombineerd met de herkenbare cliché's zorgt ervoor dat het verhaal entertainend blijft zonder dat de gruwel en de ernst van het conflict in het gedrang komen. Een perfecte mix, quoi?
De slechterik van het verhaal, een vreselijk verminkte officier die "De Puzzel" wordt genoemd heeft vooralsnog maar één functie: de klootzak spelen. Daar slaagt hij met verve in. Lang geleden dat ik nog eens zo'n schurk "you love to hate" tegenkwam in een Europese strip. Iets zegt me echter dat ook hij in het vervolg op dit eerste deel iets minder ééndimensionaal zal blijken dan gedacht. Dat die kerel Morvan heet, wat waarschijnlijk een grapje of een sneer is naar die andere Franse scenarist, kon ik ook wel smaken. De tekeningen van Babouche zijn een streling voor het oog. Prachtige kleuren, abstract, gewild chaotisch wanneer ze oorlogsgeweld afbeelden en geïnfusseerd met tonnen sfeer en vitaliteit. Geen verassingen op gebied van flow en lay-out. Net wat dit verhaal nodig heeft: een rotvaart, lekker rechtdoor. Vooralsnog is nog niet duidelijk over wiens Zwanenzang deze strip rapporteert: die van de opstandige soldaten of die van de voorzitter van de Assemblé, maar dat ik het vervolg zal lezen staat wel al vast.