Modeltekenen met een burlesque-twist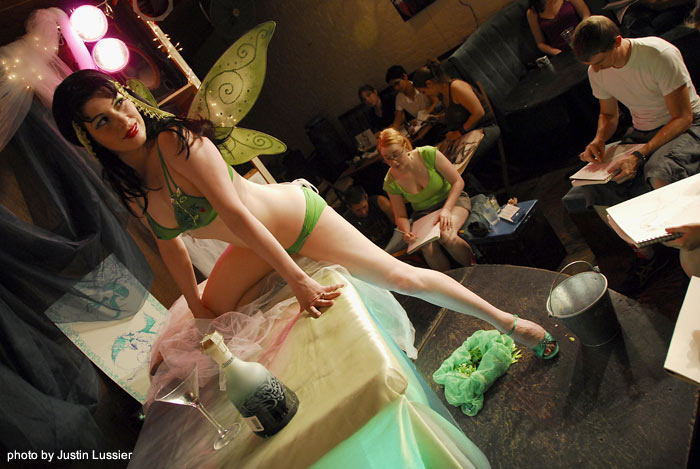 Dr. Sketchy's: ik had er nog nooit van gehoord, maar stripmaker Margreet de Heer vertelde me er vrijdag over in stripwinkel Lambiek. Dr. Sketchy's is modeltekenen, maar dan anders. En in september gebeurt het in Amsterdam.
Wat maakt Dr. Sketchy's dan zo anders dan normaal modeltekenen? Het is een combinatie van burlesque en een tekensessie. Prachtige femmes fatales, maar ook oudere burlesque dames en aparte mannelijke performers geven een optreden, waarna zij met een aantal korte poses het publiek de gelegenheid geven hen te tekenen.
Allerlei genres passeren - letterlijk - de revue: Pin-up, can-can, roaring twenties, gothic, fifties, fetish en fantasy. Ervaren kunstenaars en enthousiaste amateurs, iedereen is welkom met zijn eigen tekenspullen in de feestelijke, informele sfeer van Dr. Sketchy's Modeltekensessies. En, misschien niet onbelangrijk, de bar is open.
Crabapple
Dr. Sketchy's Anti-Art School
is begonnen in 2005 in New York door de toen 22-jarige kunstenares
Molly Crabapple
, speciaal voor creatievelingen die zich, net als zij, niet thuis voelden in de gevestigde kunstwereld. Zij organiseerde een mix van theater, cabaret, kunst, alternative lifestyle, verkleedpartijtje en tekenklas, die onmiddellijk aansloeg. Inmiddels zijn er wereldwijd meer dan honderd Dr. Sketchy's filialen.
Dr. Sketchy's Amsterdam
wordt gerund vanuit de levendige burlesque-scene, waarin organisator Marco 'Charley' Buschman al jarenlang actief is. Hij werkt samen met striptekenares Margreet de Heer van Lambiek, de oudste stripwinkel ter wereld, en Charlotte Wessels, de bekende gothic zangeres van de band Delain.
Vrijdag 16 September 2011 18:00-21:00
Club-8 Admiraal de Ruyterweg 56 Amsterdam
10,- euro entree
Live optredens van:
La Cholita (USA)
The Diamond Bettys (USA)
Nachtclub zangeres Lady Balladyna
Holland's First 'Burlesque gal': 'Spanish Anna'
Robin The Boy Wonder.
Tekenles hoeft dus niet saai te zijn. Dat je het even weet.