Video: Als zombie getekend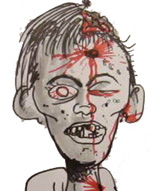 Jezelf als zombie laten portretteren, of als vampier of weerwolf. Het was allemaal mogelijk zondag 31 oktober (Halloween) in de Fame in Amsterdam. Daar zaten tekenhelden Maarten Janssens en Menno Kooistra een paar uurtjes tussen de dvd's een ieder die dat wenste op papier van een metamorfose te voorzien.
Ik was erbij met mijn cybershotje en maakte de volgende video:
Daily Webhead: Horrorportretten
from
Mike's Webs
on
Vimeo
.
Stripmaker Menno Kooistra was een paar jaar geleden de drijvende kracht achter het album
Bloeddorst
waarin verschillende stripmakers een kort horrorverhaal publiceerden. Voorlopig zit er nog geen vervolg in, maar er zijn wel plannen om ooit een Bloeddorst op magazine formaat uit te brengen.