Yndi Halda – Under Summer
(Big Scary Monsters – Bertus)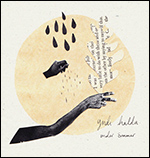 Yndi Halda is een Britse postrockband. Hun eerste plaat
Enjoy Eternal Bliss
klonk nog geheel elektrisch, maar op deze tweede plaat hebben de vijf mannen ook akoestische instrumenten ingezet. De basis van bas-gitaar-drums is aangevuld met o.a. piano, viool en cello. Het recept is als volgt: heel subtiel met gitaargepingel of viool en fluisterzang beginnen en dan laag over laag instrumenten opstapelen tot het stuk in een bombastiche orkestrale storm eindigt. Hee, waar hebben we dat eerder gehoord?
Under Summer
bestaat uit slechts vier hele lange nummers en klinkt enorm jaren 90. Postrock is net zoals grunge verbonden aan dat tijdperk. Postrock die klinkt als 2016 lijkt onmogelijk.
De zachte zang verzuipt steevast in de mix en de teksten zijn dus amper te volgen. De oeverloos voortkabbelende, onduidelijke composities houden de aandacht maar moeilijk vast. Alles is knap bedacht, mooi opgenomen en kundig gespeeld, maar dat is niet genoeg. Yndi Halda is oud Noors voor iets als 'geniet van de eeuwige gelukzaligheid'. Fijn voor hen natuurlijk dat ze er zo van genieten, maar deze toch vrij oubollige en topzware plaat kon mij niet boeien. Maar als je een groot fan bent van Sigur Rós, Godspeed You Black Emperor, Explosions in The Sky en Mogwai (waar ze mee vergeleken worden) zul je hier wellicht heel anders over denken. Beluister
Golden Threads From The Sun
in de
Soundcloud
. De plaat komt in maart uit.