Wildbirds & Peacedrums - Rhythm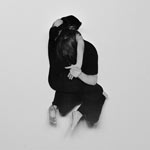 Het Zweedse echtpaar Mariam Wallentin en Andreas Werliin maakt experimentele rock met slechts een drumstel, percussie en zang. Daarmee zetten ze een zeer compleet geluid neer, dat ook nog eens zeer intens is. Wallentin's bluesy voordracht maakt indruk. Haar vurige manier van zingen doet soms denken aan St. Vincent (waar ze het voorprogramma voor verzorgden) en PJ Harvey. Ze speelt af en toe ook steel drums. De titel zegt het al: ritme is de basis. En niet zomaar ritme. Complexe drumpatronen buitelen over elkaar heen, tegen elkaar in, jagen elkaar op. Alles retestrak en in elk nummer verrassend. Zang en drums zijn telkens even belangrijk. Door in eigen studio op te nemen en te produceren hielden ze alles in eigen hand. Ze hebben er daarom vier jaar aan kunnen schaven. Misschien klinkt het daarom ook zo intiem. "Sound-wise we wanted it to feel like a live experience," legt Andreas uit. "Almost every song is one take. We recorded standing in the same room, no screens or isolation, looking each other in the eyes."
Hun debuut
Heartcore
in 2008 leverde hen meteen de onderscheiding 'jazz act van het jaar' op.
Rhythm
is alweer hun vierde plaat. Vreemd dat dit duo in Nederland nagenoeg onbekend is (al deden ze in augustus wel Paradiso aan). Hoog tijd dat daar verandering in gaat komen want hun plaat is in één woord geweldig. Beluister de single
The Offbeat
op hun
site
.