(Secretly canadian / Konkurrent)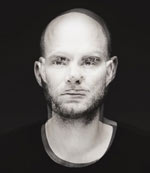 Tomas Barfod is de drummer van het Deens indiebandje Whomadewho, maar vooral bekend om zijn deejay werk. Hij heeft een grote voorliefde voor de filmische en sferische triphop uit begin jaren negentig van Massive Attack, Portishead en Goldie. Twee jaar geleden maakte hij er zijn eigen versie van. Resultaat: een elektronisch sfeervol album met gastzangers. Partners op
Salton Sea
waren de Zweedse folkzangeres Nina Kinert en Whomadewho- zanger/gitarist Jeppe Kjellberg. Beide zijn weer present op deze tweede plaat. Aanvulling is Luke Temple, die de plaat mag openen met een hoge zangstem. Barfod kiest grotendeels dezelfde benadering als op zijn onverwacht succesvolle debuut. En waarom ook niet.
De kracht van Barfod zit hem er in dat hij heel subtiel de nummers opbouwt. Hij gebruikt de constante beats niet als uitgangspunt, maar als basis voor gitaar, toetsen en zang die als kleine klanktorentjes opstijgen en weer afdalen. Het heeft een bijna deinend, wiegend effect in plaats van een de gebruikelijke stamp-klap-stamp die je veel te vaak hoort. Muzikaal doet dit tweede album sterk denken aan het Canadese Delirium, waar ook sfeer en ijle zang centraal stond. Het subtiele, wiegende sfeertje heeft ook een nadeel en dat is dat je ergens halverwege een beetje de draad kwijtraakt en niet weet welk nummer je nu eigenlijk aan het luisteren bent. Organisch gaan de tracks in elkaar over zonder een dissonante factor of iets anders waardoor je ineens opschrikt of waardoor een nummer opvalt of eruit springt.
Love me
is als een mooie bloem. Van een breekbare schoonheid maar snel verwelkend. Wat overblijft is sfeervolle achtergrondmuziek, wat gezien het vakmanschap van Tomas een beetje zonde is. De plaat komt in juni uit. Beluister een compilatie op
Soundcloud
.