To Rococo Rot - Instrument
(City Slang / De Konkurrent)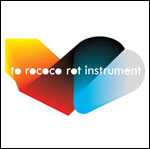 Het Duitse To Rococo Rot is alweer bijna twintig jaar actief en dus een constante te noemen in de scene die zich liet inspireren door onder andere Kraftwerk en Can. Een Duitsere sound vind je bijna niet; onderkoeld, zeer precies, machinaal en repetitief. TRR heeft patent op een fijne combinatie van electro en post-rock. Liedjes kun je hun composities meestal niet echt noemen, meer een rockvariant van ambient muziek.
Music Is A Hungry Ghost
(2001) was zo goed dat ik elke plaat daarna meteen aanschafte. En die van daarvoor ook. Helaas waren ze altijd minder goed dan gehoopt.
Instrument
klinkt nog iets meer als Tarwater dan eerdere platen. Niet verwonderlijk: TRR-drummer en effectenman Robert Lippok speelt ook in Tarwater. Er wordt op
Instrument
veel over de bekende paden gewandeld. Live drums en wat piano worden omlijst door retrobliepjes en ander digitaal gefriemel.
Het klinkt allemaal heel smaakvol, maar spannend wordt het nergens. De gelukkig spaarzaam ingezette slaperige zang had achterwege mogen blijven; dat versterkt de weinig geïnspireerde sfeer alleen maar. Af en toe experimenteren ze met minder gestructureerde geluiden, zonder dwingend ritme. Meer ambient, minder rock. Zo lijkt het slotnummer,
Longest Escalator In The World
, toch nog interessant te worden. Arto Lindsay speelt op drie tracks mee, waaronder deze. De rauwe gitaar-improvisatie smaakt naar meer. Jammer dat deze aanpak maar een bijrol heeft op deze plaat. To Rococo Rot lijkt erg tevreden met het bevestigen van het beeld dat de fans (en zijzelf) van de groep hebben. Voor altijd gevangen in de Krautrock. Beluister
Too Many Prescriptions
in de
Soundcloud
.