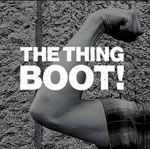 Free jazz, uitzinnig, chaotisch lawaai vol onwaarschijnlijke uithalen en oeverloos soleerwerk is een genre dat doorgaans slechts een zeer beperkt publiek aanspreekt. Wie het alleen al voor elkaar krijgt een complete langspeler van het spul uit te zitten, mag zich rekenen tot een buitengewoon select gezelschap en wie erin slaagt daadwerkelijk genot te putten uit die beproeving behoort zonder enige twijfel tot de muzikaal zeer, zeer sterken.
Het Noorse The Thing bestaat uit Mats Gustafsson (bas-, bariton-, tenor-, en sopraansaxofoon), Ingebrigt Håker Flaten (bas) en Paal Nilssen-Love (drums). Deze band probeert desondanks iets van een brug te slaan naar een wat groter publiek. Daartoe pleegt de band nummers te coveren van gekende rock-grootheden als The Cramps, PJ Harvey en Led Zeppelin, zodat het voor de gewone muziekluisteraar nog enigszins te begrijpen is. Op hun nieuwste plaat laten ze dat trucje echter achterwege: de enige covers die erop staan zijn van John Coltrane en Duke Ellington. Toch is er voor wie er een enigszins avontuurlijk luistergedrag op nahoudt nog best wel wat herkenbaars te horen temidden van de puinhopen. Het gegrom van die baritonsaxofoon heeft soms best iets weg van een stevige riff van Black Sabbath. In het maniakale geroffel van de drummer herkennen we wellicht de drukkere momenten van de grindcore en, vooruit, op dat moddervette overstuurde lawaai van die bas kun je, als je wilt, best heel erg goed headbangen. Hierdoor is
Boot!
niet alleen geschikt voor een publiek van doorgewinterde free jazz-liefhebbers. Deze plaat zou zelfs de wat avontuurlijker ingestelde metalhead moeten kunnen bekoren. Beluister
India
hier
.