THE FALL - Re-mit
(Cherry Red Records / Suburban)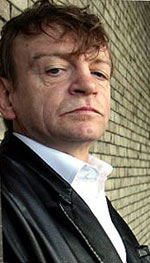 The Fall was jarenlang een van de beste bands van Engeland (zoniet de beste). Echter, na de release van het afschuwelijke
Reformation Post TLC
uit 2007 is de band van Mark E. Smith niets meer dan een groepje niets toevoegende sessiemuzikanten "geleid" door een gemakzuchtig murmelend drankorgel die geen tegenspraak duldt. Het is een trieste constatering, maar de vijfde release van de laatste zeven jaar bevestigt deze nieuwe status definitief.
Het 29-ste studioalbum
Re-Mit
begint lichtelijk hoopvol met instrumental
No Respects
en het energieke
Sir William Wray
. Wat daarna volgt zijn voorspelbare riffs in een monotoon geheel van gemompel, geschreeuw en soms zelfs gekrijs van een oude man die volledig de weg kwijt lijkt te zijn. The Fall bedient zich van wijsjes en deuntjes in plaats van songteksten en composities. Enkel het unieke stemgeluid van Smith doet ons beseffen dat we daadwerkelijk met The Fall te maken hebben.
Afsluiter
Loadstones
heeft nog een miniem sprankje van weleer en doet mij een heel klein beetje hopen op een terugkeer naar de glorie van lang geleden. Eerlijkheidshalve moet wel vermeld worden dat
Re-Mit
duidelijk beter is dan voorganger
Ersatz GB
. Dat kan op twee manieren worden opgevat. U mag kiezen welke. Misschien moet Smith alle bandleden maar weer eens ontslaan (zijn vrouw en mede-bandlid Elena Poulou als eerste) en gaan aanpappen met ex-partners Brix Smith en Julia Nagle. Zij hadden wèl de persoonlijkheid en muzikale klasse 'zijne koninklijke hoogheid' Smith tot het maximum te tergen en vooral
echte
muziek te maken.
Durft u het nog aan? De plaat is nu nog streaming op de
3voor12 Luisterpaal
.