The Dirtbombs - Ooey Gooey Chewy Ka-Blooey!
(In The Red / De Konkurrent)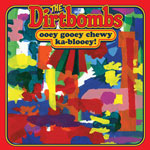 Mick Collins mag dan zijn eerste triomfen hebben gevierd in de immens coole garagepunkrevivalband The Gories, met zijn huidige project toont hij aan muzikaal aanzienlijk breder te zijn georienteerd dan je op grond van zijn toch wel eenzijdige werk in The Gories zou verwachten. Met The Dirtbombs leverde hij achtereenvolgens een plaat af met opgewekte pop-punk, een verzameling soul-nummers en zelfs een album vol covers van klassieke techno-tracks. Nu is dan de zogenoemde bubblegum-pop aan de beurt, het suikerzoete muziekproduct uit de periode tussen, pak hem beet, 1967 en 1972, dat speciaal gericht was op kinderen en jonge pubers.
Bubblegum-pop was uiteraard niets meer dan een cynisch staaltje geldklopperij, maar heeft wel verrassend aantrekkelijke deuntjes opgeleverd. Voor moderne oren zijn die vaak echter wel wat aan de gelikte kant. Het is daarom erg prettig dat Mick Collins op
Ooey Gooey Chewy Ka-Blooey!
het vakmanschap ervan heeft gecombineerd met een rauw, garagerock-achtig randje. De gitaren scheuren en ronken werkelijk zeer plezierig. Zo kun je als volwassen muziekliefhebber met een verantwoorde smaak gewoon genieten van belachelijk catchy meesterwerkjes als
Sugar On Top
("You've got the love with the sugar on top - hey hey hey!"),
Hey Cookie
("Ooh, you look so nice / all dressed up in sugar and spice") en
Sunshine Girl
("You lift me up so high / my feet don't touch the ground") zonder er onmiddellijk van over je nek te gaan. Wie niet vies is van een potje vakkundig gemaakte meezingmuziek op zijn tijd spoedde zich dan ook ogenblikkelijk naar zijn platenboer om dit werkje aan te schaffen. Beluister
Girl On The Carousel
en
Crazy For You
in de Soundcloud.