(Acoustic House Records / Rough Trade)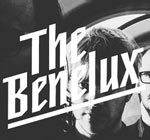 Het Amsterdamse The Benelux doet mee in de trend om muziek nog alleen als download of vinyl te koop aan te bieden. Dat kunnen ze maken omdat de band rond zanger Jaap Warmenhoven (ex Hit Me TV en Skip The Rush) al een hele tijd furore maakt in hippe clubs, Noorderslag-feestjes en DWDD-achtige salons. Hipderpip in de grachtengordel dus. Maar The Benelux is de hype waard, al kunnen we dat voornamelijk toeschrijven aan het meer dan uitstekende baswerk van Sven Hamerpagt (voorheen Project Wildeman). Deze
Bachelor of Music
en
Master of Arts (Composition in Context
) kan met zijn voorliefde voor experiment, klankkleur en effecten helemaal los gaan. Zijn stuwende, funkende en ronkende bas partijen dragen de plaat. Zijn strenge hand richt de plaat in de juist groove voor een fijn dansbaar resultaat.
Everybody Wants to Come
heet de uitnodiging voor dit feestje. Zijn gevoel voor experiment geeft een vrij vlak nummer als
The Love
net even dat beetje extra waardoor het toch interessant wordt. The Benelux klinkt alsof Larry Graham in de band van Prince is gaan spelen met een Green Gartside van jaren tachtig band Scritti Politti op vocalen. Critici schuiven The Benelux aan de kant als Nederlandse kloon van Daft Punk. En inderdaad
Smells Like Woman
heeft wel iets weg van de Franse electrosterren. Maar dankzij Sven blijft het toch een prettig indie-pop aroma behouden en gaat de vergelijking niet op. Het is lekker, niet te zoet en uitermate dansbaar en swingend. Grappig is dat ze hun muziek uitgeven op een label dat Acoustic House heet. Want met monotone housemuziek heeft de Benelux weinig van doen. Met funky alternatieve disco des te meer. Oude jaren tachtig knakkers die zich Shriekback en A Certain Ratio herinneren (zoals ik) zullen zich bij The Benelux vast thuis voelen. Beluister
I Don't Dance Enough
in de
Soundcloud
.