Tarwater - Inside The Ships
(Bureau b / Sonic Rendezvous)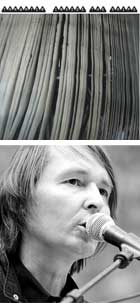 Het duo Bernd Jestram en Robert Lippok maakt onder de naam Tarwater al 15 jaar een door en door Duitse variant van post-rock: beheerst, repetitief en doorspekt met electronica. Een introverte variant van
Krautrock
. Lippok maakt ook deel uit van To Rococo Rot, dat net als Tarwater gitaar, bas en drums met digitale elementen mixt. Lange tijd kwamen ze bijna elk jaar met een nieuwe plaat, maar
Inside The Ships
heeft vier jaar op zich laten wachten. De tijd nemen heeft goed uitgepakt. Dit is een van hun beste platen geworden. Hun onderkoelde minimalisme pakte voorheen soms wat saai uit, vooral door Lippok's eentonig uitgesproken teksten. Zingen, daar waagt hij zich nog altijd liever niet aan. Zijn ernstige voordracht in de stijl van Wire's Colin Newman doet je steevast in de jaren tachtig belanden. De 'zang' is ook op deze plaat de zwakste schakel, maar dat stoort nu veel minder omdat de composities een stuk interessanter zijn.
Inside The Ships
biedt meer variatie, een uitgebreider instrumentarium, een grotere gelaagdheid en sfeervolle details. Tegelijk blijven ze trouw aan hun eigen stijl, die soms behoorlijk retro klinkt. In
Get On
hoor je een stemvervormer die The Orb's op
UFO.r.b
(1992) gebruikte. Op
Do The Oz
hoor je zowaar een jazz-saxofoon, begeleid door bongo's. In
Sata Sato
blaast een tuba de beats mee, begeleid door een mandoline, wat een onverwacht vrolijk effect heeft. Zo warm en grappig heeft Tarwater nog niet eerder geklonken. Wanneer ze eindelijk weer eens een Duitse tekst gebruiken, denk je: waarom
überhaupt
Engels? De Duitse taal past hen perfect. De plaat zal 9 september uitkomen. Luister alvast naar de titeltrack in
SoundCloud
.