(City Slang - De Konkurrent)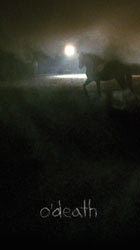 Heeft Jason Molina een nieuw bandje? Nee, de stem van O'Death's zanger-gitarist Jamie lijkt alleen maar sterk op die van de voorman van Songs: Ohia. Onvast en vol melancholie. Muzikaal vissen Molina en O'Death ook uit dezelfde vijver. Deze baardmannen uit Brooklyn NY brengen donkere Americana met gitaar, banjo, viool, drums, bas en samenzang. De bandnaam verwijst naar een beroemde
traditional
uit de Apelachen. Na oprichting van de band in 2003 hebben ze bijna non-stop getourd en daarmee een stevige
fanbase
opgebouwd. De single van hun vierde plaat,
Bugs
is vrolijk en melodieus. Dit eerste nummer is bepaald niet representatief voor de rest van
Outside
. Die is beduidend zwaarder van sfeer.
Een van de mooiste nummers is het bonkende en slepende
Alamar
, dat qua sfeer tegen oude Nick Cave en Tom Waits aanleunt. In het slotnummer
The Lake Departed
bereiken ze een zinderend hoogtepunt met traporgel en een wanhopig kermende Jamie. "Leave her body in the snow. Leave her body in the snow. There's nowhere else for her to go." Traag stampend ploegen ze zich een weg door dit tragische verhaal. Dit nummer is een waar New Yorks equivalent van De Kift. Wie vroeger naar The Willard Grant Conspiracy luisterde zou deze plaat eens moeten proberen. O'Death is niet vernieuwend, maar dat hebben ze ook niet nodig om indruk te maken. Dat lukt hen gemakkelijk met deze elf erg mooi gearrangeerde liedjes. Ze worden alleen maar mooier met elke luisterbeurt.