Miracle - Mercury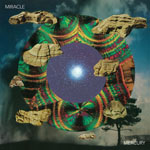 Als teaser had Miracle al een clipje vooruit gestuurd van het titelnummer.
Mercury
begint met een dreigende synthloop, electrobeats en horrorachtige geluidjes, opgeroepen door Steve Moore. Caleidoscopische beelden van Bryce National Park (wat er in ieder geval al als een desolaat maanlandschap uitziet) worden afgewisseld met de kop van een weerwolf die dreigend naar je gromt. De semiverveelde hypnotiserende stem van Daniel O'Sullivan volgt de melodie alsof hij je in slaap wil sussen terwijl je weet dat het gevaar dreigt, het is een nachtmerrie op muziek.
Mercury
is een nummer dat onder je huid kruipt. Muzikaal deed het mij erg denken aan
Circus Of Death
van de vroege Human League en dat schept verwachtingen. Helaas weet Miracle met geen enkel ander nummer zo te boeien als met het titelnummer. De horrorsoundtrack-invalshoek die daarvoor gekozen is werd de basis voor het hele album.
Dit gelegenheidsduo liet zich inspireren door Italiaanse griezelfilms en Joel Schumachers newwave-vampierfilm
The Lost Boys
. Het is niet dat Moore en O'Sullivan geen muzikale ervaring hebben. Daniel O'Sullivan speelde al in bands als Ulver, Mothlite, Grumbling Fur en Guapo, terwijl Steve Moore bij synthband Zombi, Kompakt en L.I.E.S. de toetsen deed. Groot geworden tijdens het eindeloos touren langs het undergroundclubcircuit wilde het tweetal wel eens samen wat met hun ideeën doen. Dat is gelukt.
Mercury
is een leuke collectie aan ideetjes geworden met flarden van hun inspiratiebronnen erin en één geslaagd resultaatje. Maar of dat nou de moeite van het kopen waard is? Advies: check de clip (zie link hyperlink hierboven), download de single en laat het daar maar bij.