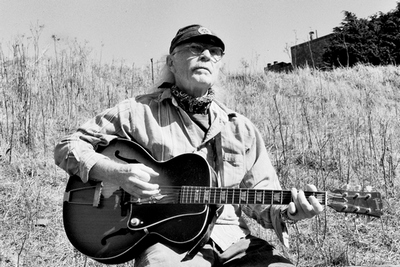 Of hij nu thee of hallucinogene thuisbrouwsels drinkt, Michael Hurley blijft altijd muzikaal overeind. De Amerikaanse singer-songwriter, schilder en striptekenaar, die een reizend bestaan leidt, is al 45 jaar underground. Soms is er extra aandacht, als hij wordt opgehemeld door bekendere artiesten als Cat Power en Devendra Banhart bijvoorbeeld. De kritieken zijn altijd positief en al zijn platen zijn collector's items, maar Hurley lijkt allergisch voor showbusiness, waardoor een doorbraak uitgesloten lijkt. In de korte documentaire
Snock 'N Roll
zien we dat Hurley niet dol is op interviews; hij werkt alleen mee omdat de filmmaker hem geregeld voorziet van een zelfgemaakt brouwsel, dat prettige hallucinaties schijnt te veroorzaken:
Onlangs was er een nieuw lichtpunt voor Hurley-fans, toen de heruitgave op vinyl verscheen van
First Songs
. Op de debuutplaat uit 1965 begeleidt de nog 22-jarige zanger zichzelf op akoestische gitaar. Zijn lot bezegelt hij in 'Just A Bum', dat net als de rest van de plaat klinkt als een historische opname van een bejaarde zwerver. Korte, grappige liedjes worden afgewisseld met langere stukken, zoals het zeven minuten durende kippenvelnummer 'Tea Song'. Hierin volgt hij als een Hindoestaanse of Noord-Afrikaanse zanger zijn eigen tempo, geheel afhankelijk van zijn stemming.
Hurley heeft in de loop der jaren bepaalde nummers meerdere keren opgenomen, als een stand-up-comedian die zijn grappen aanscherpt. 'Tea Song' komt terug op
Blue Hills
, zijn nieuwe album waarvan de hoes versierd is met zijn kleurrijke, stripachtige schilderingen. Na experimenten met begeleidingsbands is Hurley opnieuw solo, nu op gitaar, elektrische piano en traporgel. Toch is hij geenszins terug bij af; Hurley is beter bij stem en zelfverzekerder dan ooit. Pas nu lijkt hij alles artistiek op orde te hebben. Laten we hopen dat er achter zijn fragiele gestel sterke genen schuilgaan en dat er nog vele platen mogen volgen.
Eind maart 2011 verschijnen er drie nieuwe heruitgaven van Michael Hurley: Have Moicy! uit 1975, Long Journey uit 1976 en Snockgrass uit 1980. De platen komen uit op vinyl, op Light in the Attic Records. In Nederland te bestellen bij Magic Buzz.