Michael Hearst - (Songs For) Unusual Creatures
(Chronicle Books, 16,99 euro/ Urban Geek Records, 13,95 euro)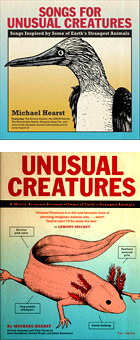 Wie een poging doet de bezige New Yorker Michael Hearst (1972) te beschrijven heeft aan acht slashes niet genoeg. Om onze ruimte nuttig te besteden is een verwijzing naar zijn
Wiki-pagina
het voordeligst. De frontman van de eclectische klezmer-folkband One Ring Zero heeft zijn werkterrein onlangs verder vergroot met de publicatie van het boek
Unusual Creatures
, met - natuurlijk - een begeleidende solo-cd onder de naam
Songs for Unusual Creatures
.
Het boek is eigenlijk een verzameling
superduperdieren
. Net als in de Albert Heijnse evenknietjes staan er luchtig verzamelde wetenswaardigheden over onbekende, schattige en drollige beesten in. Wist u bijvoorbeeld dat veertig procent van alle insecten op aarde kevers zijn en dat veertig procent van alle muziek op de
oldie
-radio van The Beatles is? Kortom, interessante weetjes voor grote kinderen.
Wat het boek nog mooier maakt is de vormgeving en die is stevig in handen van Rotterdammer Jelmer Noordeman en het Amsterdamse Elasticbrand, bestaande uit Christie Wright en Arjen Noordeman. Vooral het kleurgebruik is puik en kan met gemak meedingen als
highest rated
op Adobe's Kuler. Tekst, illustraties en vormgeving maken van Unusual Creatures een kek bladerboek dat net zo makkelijk in de reguliere boekenkast past, als op de eyecandy-plank of -tafel.
De cd is een instrumentale curiositeit met zestien nummers die 'passen' bij de dieren uit het boek. Daar is fantasie voor nodig, maar leuk is het wel. Veel gekke instrumenten en typische arrangementen. Bijna net zo geestig als Hearsts eerdere solo-project
Songs For Ice Cream Trucks
, een klassieker in het zelfbedachte genre.