(Staatsakt / Rough Trade Distribution)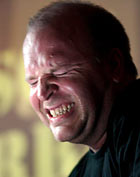 Jason Forrest maakt al een jaar of tien digitaal vuurwerk. Onder de naam Donna Summer mixte hij rock-n-roll met noisy breakcore en ontwikkelde daarmee een zeer herkenbare eigen
plunderphonics
-stijl. Zo verwerkte deze alleseter samples van onder andere Slayer, Steely Dan, B 52's, Supertramp, Talking Heads, Elton John en The Cure in zijn vrolijke
mash-up
-tracks. Stuiterend over het podium weet de mollige Amerikaan als geen ander hoe een laptopconcert ook tot een visueel spektakel te maken. Op cd komt zijn componeerplezier gelukkig ook goed over.
We hebben zes jaar op
The Everything
moeten wachten. Hij heeft er vast niet non-stop aan gewerkt in z'n Berlijnse studio: zijn label Cock Rock Disco zal ook veel tijd in beslag hebben genomen. De plaat klinkt wat minder chaotisch en fragmentarisch dan eerder werk. Minder breakcore, een opener geluid en het tempo is in veel nummers naar beneden geschroefd. Dit alles zorgt voor een toegankelijker geheel dan we van hem gewend waren. Toegankelijk, maar niet glad en altijd spannend. De kitchy synths en vette gitaren maken het een herkenbare Forrest. En een erg goede ook. Het funky eerste nummer
New Religion
is meteen een topper (check de soundcloud link). Wanneer hoor je ooit een tuba in breakcore? Bij Forrest dus. Liefhebbers van de quiz 'herken de popsongsample' hebben pech: ondergetekende heeft er niet één gespot (of niet goed opgelet?). Zang is zoals gewoonlijk zo goed als afwezig en wordt geen moment gemist. Want wat is er weer veel te beleven op zijn elfde plaat! Ook digitale saxofoons zet hij in.
Archive
doet daarmee denken aan zijn Londense collega-laptopartiest Simon Bookish.
The Equisite organ
eindigt met een subtiele toetsenpartij, gevolgd door de heerlijke uptempo stuiterballentrack
Roger Dean Landscape
.
Isolation, Too
is met bijna alleen piano een atypische afsluiter, die bijna naar Aphex Twin neigt.
The Everything
is springerig, vol verrassende wendingen, enorm gevarieerd en soms ook grappig. Fans van Prefuse 73 zal deze plaat zeker bevallen. Er staat geen enkele minder nummer op: alle elf steengoed.