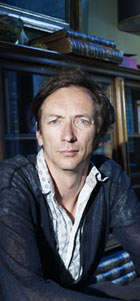 Veel mensen denken dat de piano een snaarinstrument is. Hauschka hamert gedurende
Salon des Amateurs
maar eens op de feiten: de piano is een percussie instrument. Componist Volker Bertelmann uit Düsseldorf maakt een soort minimal techno, maar dan gespeeld op een geprepareerde piano. Dat wil zeggen: tussen de snaren zijn allerlei objecten aangebracht die het geluid vervormen. Na een paar sobere platen komt hij nu met een wat meer orkestraal aangekleed album. Een echte koerswijziging is dat niet. Op zijn vorige plaat experimenteerde hij ook al met strijkers en blazers, met wisselend succes.
Deze keer werkt hij samen met de cellist Joe Burns (Calexico) en twee drummers: Samuli Kosminen (Múm) en John Convertino (Calexico). Met twee drummers verwacht je een ritmisch spektakel, maar dat valt tegen. De onopvallende boem-klap vierkwartsmaten zijn zo naar de achtergrond gemixt dat je goed moet luisteren om ze te volgen. Alle aandacht gaat naar de gedempte 'beats' van de piano. In tien repetitieve stukken wil hij een brug slaan tussen modern klassiek en dance. Maar zijn aanpak is zo weinig opzwepend dat de term dansmuziek eigenlijk misplaatst is. Hauschka's richtingloos voortkabbelende klanktapijten zijn duidelijk gericht op het hoofd, niet op de benen.
De patronen zijn koel en beheerst uitgevoerd, net zo Duits als de platen van To Rococo Rot, die eveneens leunen op herhaling en een zelfde mechanische sfeer ademen. Nergens wordt naar een climax toegewerkt, waardoor hij voortdurend balanceert op de grens tussen subtiel en saai. Dit gebrek aan spanning doet de plaat geen goed, ondanks enkele mooie momenten waarop plots een viool, melodica of een trompet binnen valt. Toch is
Salon des amateurs
geen slechte plaat. Wie de moeite neemt er echt voor te gaan zitten, kan veel moois ontdekken in de subtiele gelaagdheid en sfeervolle details. Van mooi behang valt best te genieten, als je er oog voor hebt. Voor de alles-van-Hauschka-koper: in de loop van het jaar zal een serie remixes op 12" uitkomen, gevolgd door een verzamelplaat met remixes in de originele
tracklisting
van
Salon des Amateurs
.