(Mute Records / Play It Again Sam)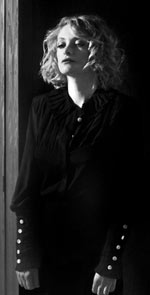 De Britse Alison Goldfrapp maakte met haar debuut
Felt Mountain
in 2000 grote indruk. Haar fluwelen zuchtzang was betoverend, sensueel en loepzuiver. Maar ook lof voor de tweede helft van het duo, componist Will Gregory, die eveneens keyboards en electronica voor zijn rekening nam. Vanaf plaat nummer twee,
Black Cherry
, was het subiet afgelopen met de zwoele kabbelende nummers en sprookjesachtige sferen. Met stevige beats en vette synths leken ze een groter electropoppubliek te willen bereiken. Dat lukte prima. Armani gebruikte het nogal doorsnee disconummer
Strict Machine
zelfs voor een parfumreclame. Hun laatste album leverde een Grammy nominatie op en ze werden in 2005 beste alternatieve groep/artiest op de MTV Europe Music Awards. Ik houd best van een goed potje electropop maar 'Goldfrapp goes dance' kon me niet bekoren.
Met hun zesde album
Tales Of Us
grijpen ze terug naar de verstilde sound van
Felt Mountain
. Wat de reden ook moge zijn voor deze ommezwaai, het is een mooie plaat geworden. Op de
website
is alvast een voorproefje te zien en horen. Psychedelische discokleuren hebben plaats gemaakt voor stijlvol zwart-wit. Terug is de zuchtzang (nu met extra veel lucht). De muzikale begeleiding is meestal sober; een tokkelende akoestische gitaar, contrabas, een piano, wat digitale strijkers. Electronica is minder prominent aanwezig. Minpunt is wel dat het allemaal minder bijzonder klinkt dan op hun debuut.
Alvar
klinkt met een shoegaze-gitaartje nogal eighties. Met
Thea
dreigen ze alsnog de bombastische kant op te gaan, maar het ontspoort gelukkig net niet. Jammer dat er niet echt een nummer bij zit dat een hele dag in je hoofd blijft hangen. Kortom: een beetje braaf maar wel mooi.
Tales Of Us
is risicoloos op te zetten tijdens een familiediner. Dat zal voor de één een aanrader zijn, voor de ander zeker niet. De plaat komt 9 september uit. Bekijk de trailer op
YouTube
.