(Constellation / De Konkurrent)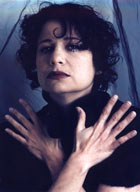 Carla Bozulich lijkt aan een muzikale vorm van duiveluitdrijving te doen. Deze
singer songwriter
uit Los Angeles draait al een tijdje mee. Vanaf 1982 maakte ze deel uit van diverse bandjes (o.a. The Geraldine Fibbers) en werkte samen met o.a. Mike Watt, Nels Cline, Thurston Moore, Lydia Lunch, Marianne Faithfull, Marc Ribot en Wilco. Sinds 2006 is ze aanvoerder van het Evangelista-project. Dit is een project, geen band. Bozulich staat namelijk met één been in de performancekunst en poëzie en met de andere in de rock en improvisatiemuziek. Haar rauwe voordracht doet denken aan Patti Smith en Thalia Zedek (Come). De stukken op
In Animal Tongue
zijn traag en zwaar, de teksten onheilspellend. Ze spreekt vaker dan ze zingt. Ze klampt zich aan de microfoon vast alsof die haar zou kunnen redden als was het een reddingsboei op open zee. Begeleid door slechts wat sober gitaarspel, donkere
drone
, traporgel, xylofoon of een cello lijkt Bozulich zichzelf in een soort trance te brengen. Het resultaat is indrukwekkend. Het grijpt je bij de keel.
Of we
In Animal Tongue
graag een tweede keer opzetten is een tweede. Dit is geen entertainment, eerder exorcisme. Om zo'n plaat te maken moet je lak hebben aan verkoopcijfers. Evangelista zoekt het in een bijna evangelische gedrevenheid. Een titel als
Black Jesus
had op een plaat van collega zwartkijkers Swans niet misstaan. Het titelnummer zou het prima doen in de soundtrack van een door David Lynch geregisseerde horrorfilm. Geen (zelf)relativerende noot te bekennen op dit egodocument. Op
Die Alone
lijkt alle hoop definitief gevlogen. "My body has failed me on this cold night / And I'll die in the dark tonight / Now it's too late , I see what I've done / I killed so many things before they ever begun / I was always coming to your door / Asking for something, then asking for more / I never even knew your story / I never even sat straight enough to hold your body." Kortom, een gedurfde bijzondere plaat, maar je moet er wel tegen kunnen. Wie intense vocalistes als bijvoorbeeld Jarboe en Hannah Marcus wel kan waarderen, raden we zeker aan Evangelista eens te proberen.