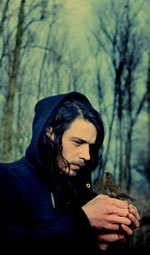 Onvoorbereid de plaat van Equinox, the Peacekeeper beluisteren zet je gegarandeerd op het verkeerde been. Terwijl je denkt met een volbloed Amerikaanse singer-songwriter te maken te hebben blijkt het gewoon ene Wouter Buyst uit Antwerpen te zijn. Hij voelt zich buitengewoon goed thuis in Amerikaanse roots-muziek als bluegrass, folk en country. Dat is op zich niet bijzonder, je hebt er wel meer in Vlaanderen, zoals de singer-songwriter Stefaan Decroos (van I do I do), die net als Buyst in Gent woont. Zijn tweede album
Birdsongs On The Wasteland
is werkelijk prachtig, met melancholieke liedjes stevig in de traditie verankerd en een stemgeluid zo donkerbruin als Leonard Cohen.
In relaxed tempo begeleidt hij zichzelf op gitaar en vertelt verhalen die niet zelden over de liefde gaan.
Walking Drunk Through Heaven Again
, met alleen zang en piano, doet sterk aan de Nick Cave denken van een jaar of 10 geleden. De romantiek van het verval klink ook hier door in de tekst, "I've seen the scars around your eyes and the marks on your soul/ And I've felt the war inside you you keep untold/... And there was a moment when I fell in love with your crooked teeth."
Om het geheel oud te laten klinken zocht hij half vergane speakers of een oude radio om daar het geluid door te laten vervormen. Sommige tracks, zoals
Bill's Song
doen mede hierdoor sterk denken aan The Willard Grant Conspiracy. Gelukkig gebruikt hij dit effect niet in elk nummer, want dan zou het een gimmick worden. Buyst is duidelijk een romantische geest die liever vertoeft op andere plekken en in voorbije tijden dan in het hier en nu. De liedjes zijn niet eens zo opvallend van opzet, maar de invulling is wel opmerkelijk smaakvol en niet alledaags. Naast gitaar, banjo, zingende zaag, harmonium, mondharmonica, accordion en Oost-Europese zithers hoor je op
Making Time Stop Evaporating
zelfs boventoonzang (door hemzelf gezongen!). Mede door dit afwisselende instrumentarium klinken twaalf nummers achter elkaar helemaal niet lang.
In het perbericht lezen we dat het ene lied in Colombia werd opgenomen, het andere in een hangmat in het Amazonewoud en ook India wordt genoemd. Waarom eigenlijk? Je komt het regelmatig tegen dat bands exotische lokaties noemen waar tracks opgenomen zijn, liefst zo afgelegen mogelijk. Klinkt de muziek daar beter door? Overbodige informatie. Dat hij een en ander meegemaakt heeft waar hij gebutst uit te voorschijn is gekomen is evident. Buyst is een van de beste Vlaamse muzikanten van nu. Zeker en vast. Beluister
The Holy Lamb Soundly Sleeping
en
Total Eclipse
. Een video:
Minding Your Own Business