Electric Youth - Innerworld
(Secretly Canadian / Konkurrent)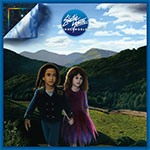 Een goed platenlabel heeft een neus voor kwaliteit. Of in ieder geval een heel duidelijk beleid wat betreft acts die ze tekenen. Labels zoals 4AD, Warp, Creation, Sub pop en Factory records zijn fraaie voorbeelden uit het verleden. Het maakte niet wat erop verscheen, alles was goed. Het Canadese label Secretly Canadian mag zich wat mij betreft in dat rijtje scharen. Het is een label waar de afgelopen jaren een stroom aan puntige en soms wat dromerige indiepop op uitkwam, het ene bandje nog pakkender dan de vorige. Probleem is dat elk label ooit het punt bereikt waarop het niet allemaal meer geweldig is. Met het duo Electric Youth bestaande uit Austin Garrick en zangeres Bronwyn Griffin lijkt dat punt bereikt.
In de bio ziet het er allemaal best nog aanlokkelijk uit. Als inspiratiebronnen worden de soundtracks van films als
Metropolis, Heavenly Creatures, Videodrome
en
After Hours
opgevoerd. Het resultaat is echter wat saaier dan verwacht. Het geheel klinkt eerder als een slechte Jon Carpenter soundtrack met dromerige, lijzige zang. Garrick beheerst zijn synthesizers wel, maar weet daar niet iets spannends mee te doen. Het klinkt als een weergave van deel zes van het boekje 'hoe maak ik popmuziek met een casio en een drumcomputer'. BoemKlapBoemKlapZweefZweef. Af en toe springt er een nummer uit zoals single
Without You
en het drie jaar oude dancehitje
A Real Hero
. Maar of we daar nou enthousiast van moeten worden? "We wanted to make something that had the sense of being timeless, Our ultimate goal is to make a record that will be the favorite album of people that aren't born yet", zegt Austin in een recent interview. In die opzet is Electric Youth in ieder geval nog niet geslaagd met
Innerworld
. Beluister
Runaway
op
YouTube
.