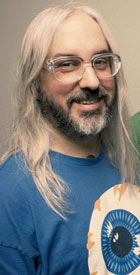 Bij een nieuw album van Dinosaur Jr. weet men precies wat men krijgt: muziek met als basis melancholieke hoognasale kraaienzang (lijkend op die van Neil Young), zwaar vervormde gitaren en verslavende melodieën. Sterk beïnvloed door Graham Parsons heeft voorman/componist J Mascis (1965, Amherst, USA) een patent ontwikkeld op nonchalante songs die voornamelijk verveling en berusting uitstralen.
I Bet On Sky
is hun tiende studioalbum sinds hun debuut in 1985 met de single
Repulsion
en alweer hun derde in de oerbezetting (dus met bassist Lou Barlow en drummer Murph) na de reünie in 2005.
Het album begint voortreffelijk met
Don't Pretend You Didn't Know
, een aanstekelijk droefgeestig nummer. Opgesierd met een heuse synthesizer is het zelfs licht dansbaar. De single
Watch The Corners
en
See It On Your Side
presenteren Dinosaur Jr. in de meest traditionele zin. Mascis zingt lekker zeurend, ondersteund door zijn fabelachtige gitaarspel. Een ander hoogtepunt betreft het lome en trage
What Was That
, de beste herftsong van dit jaar tot nu toe. Ook de sympathieke Lou Barlow levert twee prima bijdrages met
Rude
en
Recognition.

I Bet On Sky
kent geen enkel zwak moment en wordt alleen maar beter naar mate het meer wordt beluisterd. "Deze plaat klinkt weer precies hetzelfde als diegene daarvoor. Het is het enige wat ik echt goed kan", vertelde Mascis ooit jaren geleden. Anno 2012 is er niets veranderd. Het mag wel eens gezegd worden: J Mascis behoort tot één van de grootste singer-songwriters ooit en is de beste gitarist van Amerika. En nee, ik overdrijf niet.