Dead Can Dance - Anastasis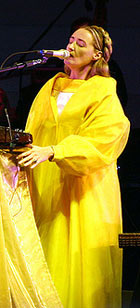 Brendan Perry en Lisa Gerrard waren van pakweg 1985 tot halverwege de jaren 90 boegbeelden van de Gothic muziek. Dead Can Dance produceerde kathedralen van galm, grote gebaren, grote woorden, filosofische bespiegelingen, diepzinnige symboliek en smaakvol georkestreerde
Weltschmerz
.
Spiritchaser
was hun laatste plaat samen en verscheen in 1996. Ze besloten in 1998 uit elkaar te gaan, maar solo bleven ze beide actief. Met name Gerrard oogstte veel succes met filmmuziek. In 2005 deden ze samen een wereldtoernee. De hernieuwde samenwerking beviel blijkbaar goed. Na zestien jaar hebben ze voor het eerste weer samen een plaat gemaakt. Op de hoesfoto staan dode zonnebloemen, die in een volgend seizoen weer voor nieuwe bloemen zullen zorgen.
Anastasis
is het griekse woord voor wederopstanding. Dit zijn dus geen dode bloemen, dit is Dead Can Dance. Perry opent met: "We are ancient, ancient as the sun". Overal is over nagedacht en dat zullen we weten ook!
Na de pikzwarte doom-sfeer van hun beginjaren haalden ze inspiratie uit onder andere de middeleeuwen, het midden-oosten en Afrika. Zouden ze bij deze reunie inspiratie halen uit weer een andere exotische of uit het verleden opgeduikelde muziekcultuur? Ja, het verleden wordt wederom onder de loep genomen, maar wel hun eigen verleden. De plaat doet nog het meeste denken aan een van hun beste:
Within the Realm of a Dying Sun
uit 1987. Dead Can Dance lijkt te hebben gekozen voor een bloemlezing uit de eigen hoogtepunten. Geen verrassing te bekennen. Er wordt bombastisch op pauken geslagen, de strijkers zijn in mineur, de stukken zijn allemaal 6 tot 8 minuten en de synthesizers maken de
back to the eighties
-ervaring compleet. Leuk voor de fans die er maar niet genoeg van kunnen krijgen, maar het geheel is wel een overbodige en risicoloze herhalingsoefening, hoe smaakvol alles ook klinkt.
Return of the She-King
is een van de weinige opvallende stukken. Het thema in Keltische sfeer lijkt wel wat op de openingstune van het fantasy-epos
Game of Thrones
, dat bij het zelfde publiek in de smaak zou kunnen vallen.
Brendan Perry's teksten zijn zoals altijd nogal pretentieus en zwaar op de hand. De woordeloze en kristalheldere zang van Gerrard maakt gelukkig veel goed. Beide komen even vaak aan bod. Zo, laat de ineenstorting van de Europese economie maar komen, de soundtrack ligt al klaar.
Anastasis
is nu te horen op de VPRO
Luisterpaal
.