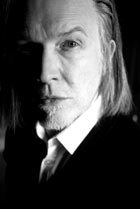 Van
new romantic
pop heeft David Sylvian al zo'n twee decennia geleden afscheid genomen. Vanaf
Blemish
in 2003 begon hij electronica te gebruiken in zijn muziek en zocht aansluiting bij modern klassieke componisten en impro-artiesten.
Manafon
uit 2009 was vrij experimenteel voor zijn doen met nogal abstracte
soundscapes
. Voor
Died In The Wool
heeft hij alle tracks van
Manafon
herbewerkt, met behulp van componist Dai Fujikura en enkele improjazzmusici. Daarnaast staan er nog 6 nieuwe stukken op. Net als op
Manafon
hebben de tracks nauwelijks kop of staart, werken nergens naar een climax toe en wiegen je daardoor langzaam in slaap. Een aangename slaap, dat wel. De cello's, violen, galmtapijten, zachtjes rammelend ijzerwerk, een enkele saxofoon of tokkelende gitaar, sfeervol is het zeker. De productie van Jan Bang and Erik Honoré is ronduit perfect. Waar komt dat onbevredigende gevoel dan toch vandaan?
Op muzikaal vlak is hij zijn grenzen blijven verleggen, maar de manier van zingen is daar niet in mee gegaan. Een lang uitgesmeerde vibrato achter elke introspectieve zin en melancholieke mijmering is zijn handelsmerk. De eenvormigheid van deze zangpartijen zorgt ervoor dat de nummers nauwelijks van elkaar te onderscheiden zijn. De aandacht verslapt daarom al snel, ondanks de smaakvolle arrangementen. Daarbij grossiert Sylvian in een melodramatisch soort poëzie vol grote emoties die je ófwel prachtig vindt, óf vreselijk pretentieus. "When it comes, the landscapes listens, shadows hold their breath... There's a man down in the valley who is moving back in time. He bears a grudge against the English. And the future will contain random acts of senseless violence... Your sanity shattered... The beating of powderblack wings left you blind".
De literaire ambitie druipt ervan af, maar de teksten vol
Weltschmerz
zijn helaas niet pakkend.
I Should Not Dare
is één van de weinige 'echte' liedjes. De bonus-cd in de oogstrelende luxe box met tekeningen van George Bolster op de hoes bevat één stuk:
audio from the installation When We Return You Won't Recognise Us
. Geen nummer of track, maar een installatie. Sylvian is geen gewone muzikant, maar een
sound artist
. Laat dat duidelijk zijn. Op de speciale website over
Died In The Wool
licht hij een en ander nog uitgebreid toe, zoals het een ware kunstenaar betaamt.