Dan Freeman and the Serious - I Lie A Lot
(Solaris Empire / Sonic Rendezvous)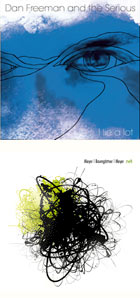 Berlijn oefent al decennia een bijna magische aantrekkingskracht uit op muzikanten. En niet alleen elektronica-adepten. Jazzsaxofonist Dan Freeman vertrok van Tasmanië naar Berlijn om er muziek te studeren. Op de Academy of Music Hanns Eisler ontmoette hij de band The Serious, ruilde zijn sax in voor piano en ging zingen. De samenwerking bleek een schot in de roos. Hun debuutplaat
I Lie A Lot
is erg goed en kan zich zelfs bij vlagen meten met Radiohead en Jeff Buckley. Overdreven? Oordeel zelf; het album is te horen in de
SoundCloud
.
De academische achtergrond van de vier mannen heeft 11 knap gecomponeerde liedjes opgeleverd, tussen alternatieve pop en jazzy rock in. Technische perfectie kan soms zielloze stijloefeningen opleveren, maar daar hebben zij geen last van. De nummers zitten vol dynamiek, spannende overgangen en soms ongewone maatsoorten. Toch is het een heel toegankelijke popplaat. Van een flinke dosis pathos en galm zijn de mannen niet vies. Dan Freeman is enorm romantisch, vooral in de subtielere pianostukken, maar lekker rocken kunnen ze ook. Af en toe neigt de boel wel erg esthetisch te worden. Op die momenten denk je dat je naar een Coldplay-kloon zit te luisteren. Gelukkig blijven ze meestal aan de goede kant van de streep.
Freeman's beweeglijke zangmelodieën zijn keuriger dan die van Jeff Buckley, maar nooit saai. De rocknummers zijn favoriet, zoals het titelnummer
I Lie A Lot
, inclusief noisy freejazz-einde. De hoekige tracks
Break Of Day
en
Older
zijn de betere tracks. Meer daarvan graag. Het goedkoop uitziende hoesontwerp is wel een minpunt; die nodigt niet bepaald uit tot luisteren. Ik benieuwd naar hun volgende stap: zullen ze verder richting pop gaan en wereldwijd het Coldplaypubliek veroveren, of juist meer het experiment gaan opzoeken? Het zal geen verbazing wekken dat ik hoop op het laatste. Een lichte koerswijziging is zeker niet ondenkbaar. Bassist Bernhard Meyer en de enorm creatieve gitarist Peter Meyer hebben met een ander trio namelijk onlangs een nog avontuurlijker plaat gemaakt en kunnen dus meer kanten op:
Meyer/Baumgärtner/Meyer - Melt
(Traumton, september 2011)
Dat is andere koek. Voor echte popliefhebbers is deze experimentele jazzrock waarschijnlijk een paar bruggen te ver. Maar wat zetten alleen bas, gitaar en drums hier een prachtige kathedraal van geluid neer! Van dromerige klanklandschappen tot spetterende rockpassages, dit is smelten geblazen. Fan van de eveneens Berlijnse jazzrockers Der Rote Bereich? Check even die link. Dit is geschoolde muziek met ballen (en baarden). Drie van de negen lange nummers zijn
hier
te horen.