CocoRosie - Tales of a Grass Widow
(City Slang / De Konkurrent)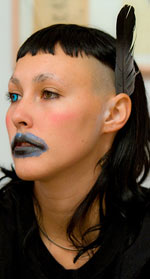 De zusjes Bianca en Sierra Casady maken al 10 jaar eigenzinnige muziek. Ze worden door de schrijvende pers nog altijd in het freakfolk-hokje gestopt. Dat heeft meer te maken met hun uitzinnige verkleedpartijen dan met hun muziek, want die is allang niet zo
weird
meer als in hun beginjaren.
Freaky
zijn de zusjes zeker, een in hun hippie-jeugd ontwikkelde eigenschap die ongetwijfeld geholpen heeft hun liedjes aan de man te brengen. Hun zelfportretten zijn een kunstvorm op zich. Op CocoRosie-platen tref je van alles aan: hiphop, electrobeats, samples, avantfolk, synths, pop,
found sounds
en kinderspeelgoed.
Hun nieuwe plaat
Tales of a Grass Widow
klinkt een stuk toegankelijker dan ouder werk. Ze stapten voor deze vijfde plaat over van Sub Pop naar City Slang. Veel prettig in het gehoor liggende beats, minder kinderspeelgoedgefriemel, meer dansbare glad klinkende beats. Antony Hegarty zingt twee nummers mee. In
Tears For Animals
bezingt hij zijn 'love for human kind', een bekend thema in zijn werk. Het nummer kwam vorige zomer al uit als b-kant van de single
We Are On Fire
. De dames klinken hier soms bijna even engelachtig als Liz Frazer. Het is een van de beste tracks op het album. Na een swingend begin zakt de plaat wat in met een indiase fluit-passage.
End Of Time
is een echt hip-hop nummer met niet zo geweldige praat-zang. Dan weer een stukje traporgel, afwisseling is er genoeg om de aandacht elf nummers lang vast te houden. Maar ook ontbreekt samenhang.
De expressieve zangpartijen vol vibrato hebben in bijna elke track de hoofdrol. En daar wringt de schoen, of juist niet? Hun hoge kindvrouw-stemmetjes vind je ofwel betoverend of vreselijk irritant. Een middenweg is er bijna niet. Als je het stemgeluid van Björk en Joanna Newsom prachtig vindt, dan zit je bij CocoRosie vermoedelijk wel goed, al kunnen de muzikale ideeën van de zusjes bij lange na niet tippen aan alle eerder genoemden. Eindconclusie: muzikaal best een aardige plaat, alleen jammer van die stemmen. De single
Gravedigress
is al te horen in de
Soundcloud
. Waar het nummer over gaat? "It's an imagined conversation between an abandoned child and an outcast old woman." Ach ja, ze hebben een imago hoog te houden. De plaat komt 27 mei uit.