Christopher Tignor - Thunder Lay Down In The Heart
(Western Vinyl / De Konkurrent)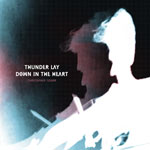 De titel van deze modern klassieke plaat is een regel uit
A Boy
, een gedicht van John Ashbery uit 1956. In het eerste nummer wordt het voorgedragen door de auteur. Geen lichte kost; zwaarmoedig van sfeer en wat de man bedoelt blijft in nevelen gehuld, zelfs als je mee leest. De rest van de plaat bevat geen poëzie, maar alleen violen, cello (door A Far Cry String Orchestra), drums en op de achtergrond wat subtiele synths en electronische beats. Tignor komt uit de minimal music-hoek en was ooit assistant van Lamonte Young. De violist-componist-producer studeerde ook informatica en combineerde al vaak electronische met klassieke muziek. Hij is veelzijdig te noemen want ook het avantgarde electrorock-duo Wires Under Tension is een van zijn projecten.
Van zeer lang uitgestreken noten zonder ritme bouwt het A Far Cry String Orchestra langzaam het volume op tot een snarenstorm, opgejaagd door de drummer.
Thunder Lay Down In The Heart
doet tijdens de energiekere stukken sterk denken aan de platen van het strijkkwartet Rachel's. Dat is niet toevallig: ook Rachel Grimes componeerde mee aan de plaat. Een flink deel van de stukken is zo wijdlopig van opzet en zo subtiel dat je aandacht makkelijk afdwaalt. Als je de plaat opzet tijdens het werk gaat het waarschijnlijk grotendeels finaal langs je heen. Dat is dan ook de enige makke van Tignor's composities: deze smaakvolle ambient dreigt soms te vervallen tot muzak. Gelukkig staan er op stragische momenten spetterende passages op om je bij de les te houden. Deze plaat is wel een tip voor Fans van Godspeed You Black Emperor en Tarentel.
Thunder Lay Down In The Heart
had perfect gepast bij het label Constellation, maar verscheen bij Western Vinyl. Beluister
A Boy
in de
Soundcloud
.