(Solina Records - De Konkurrent)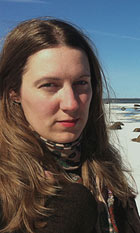 Dit Finse duo heeft een fascinatie voor tragische verhalen in de evolutie. De tragiek van dieren die niet meer bestaan hebben ze in sprankelende electropopliedjes verwerkt. De zangstem van Jessika Rapo is helder als kristal en lijkt af en toe sterk op de te vroeg overleden zangeres van Broadcast, Trish Keenan. Dat
Extinctions
zo'n hemelse plaat is geworden is vooral te danken aan Rapo's inventieve loepzuivere zangmelodieën. Componist Henry Ojala is zeker een talentvol toetsenist en gitarist, maar zonder Rapo zou Burning Hearts nooit zulke hoge ogen hebben gegooid. Beluister
Burn Burn Burn
in de
Soundcloud
.
Het bijgevoegde tekstboekje vol plaatjes van deze tragische dieren is niet overbodig: de galmknop staat de hele plaat lang flink open en ook de overdubs maken de teksten soms lastig verstaanbaar. Bij het meelezen blijken de teksten dan soms wel wat hippiemeisjesachtig.
Modern Times
: "My wings aren't good for flying/ My legs are weak and bad/ We leave just feathers and some bones/ 'cause tears dry up too fast."
The Swallows
: "This is our world/ A sacred place to be/ This is our resort/ For resting weary feet."
Ze lieten zich voor één nummer inspireren door de film
Into the Wilderness
, waarin Timothy Treadwell verslag doet van zijn leven tussen de Grizzlyberen in Alaska. "I could never climb those mountains/ I could never be/ Sleeping safely under the same stars as Timothy." Evenals
Into the Wilderness
is ook
The Swallows
te horen in de Soundcloud. Het warme synthesizertapijt en de drums uit een doosje geven een jaren 80-sfeer aan dit zeer geslaagde
dream pop
album, hun tweede plaat sinds hun oprichting in 2006. We kijken alweer uit naar de opvolger.