(Rough Trade / Konkurrent)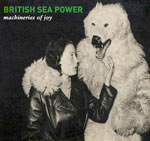 Sinds
Do you like rock music?
uit 2008 heeft British Sea Power niet echt meer een indruk achtergelaten in de Lage Landen. Zelfs in eigen land werd hun laatste
Valhalla Dancehall
met gemengde gevoelens ontvangen. Niet geheel terecht want met
Machineries of Joy
laat de eigenzinnige band uit Brighton zien dat ze de fijne kneepjes van het Britpopvak nog steeds prima in de vingers heeft. Ontstaan tijdens hun maandelijkse clubavond
Krankenhaus
presenteert BSP een divers palet van tien liedjes. De sfeer varieert van vrolijke ritmes en een tinkelende gitaar in het titelnummer tot introverte sombere symphonica op afsluiter
When a warm wind blows through the grass
. En alles wat daar tussen zit.
British Sea Porwer maakt zowel heftige progrock als lieflijke ballades. Ze zijn een soort Wedding Present die wel het conservatorium heeft afgerond. Toch is de band er in geslaagd om deze diversiteit tot een consistent geheel te smeden en is niet verdwaald in haar eigen ideeënstroom. Het vakmanschap spat er vanaf, maar men is niet verzand in een gestileerd kunstje. Kortom, intelligente poprock met een rafelrandje oftewel typische Eurorock. De makke voor BSP is en blijft echter dat de concurrentie binnen dit segment moordend is. Helaas voor hen leidt hun gekozen autonome route en hun niet echt onderscheidende geluid er ook toe dat ze een beetje wegzakken in de massa. Dat is jammer, maar geeft de fans wel de mogelijkheid om een goed bewaard geheim te koesteren. Niet verder vertellen dus;
Machineries of Joy
is een onvervalste kwaliteitsplaat. Beluister een track op hun
site
.