Bobby Conn - Macaroni
(Fire Records - De Konkurrent)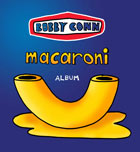 Bobby Conn heeft een missie: niet alleen goeie platen maken, maar ook de hypocrisie in de Amerikaanse maatschappij aan de kaak stellen. Met een mengsel van humor en frustratie richt hij vooral zijn pijlen op de oorlogszuchtige overheid, het kapitalisme en de hebzucht. Dit alles verpakt in goed geschreven rocknummers met een glam- of metalsausje erover en opgediend met een enorme drive en
showmanship
. Sluit hij hiermee aan in de rij grote Amerikaanse protestzangers? Niet echt: niet alleen is hij bijzonder klein van stuk, met zijn falsetstem, kitchy gitaareffecten, clowneske make up en plateauzolen is Bobby Conn veel te avantgarde om een groot publiek te bereiken. Hij zal vermoedelijk altijd underground blijven. Dat vindt hij helemaal niet erg: dat geeft hem de vrijheid om alles te roepen wat hij vindt. Vooral zijn spectaculaire live shows hebben hem zo een schare trouwe fans opgeleverd, van Chicago tot New York, Rotterdam en Berlijn.
Ook op zijn zesde studioplaat
Macaroni
tapt hij uit dit vaatje. In
Govt."
komt dat het sterkst naar voren. "Everybody hates the government/ Now I know that Hitler's black…/ We just want our country back…/ We know all of your conspiracies…/ Keep us scared and keep us fat…/ So don't confuse us with the facts. We're working hard for the people…/ Nobody knows what the government knows."
Zijn nieuwe band The Burglars is samengesteld uit leden van diverse bands uit de Chicago scene. Natuurlijk heeft zijn vrouw, violiste en zangeres Monica Boubou als vanouds een prominente rol. Enige minpunt van
Macaroni
is dat er muzikaal weinig vernieuwing te bespeuren valt, al is het Afrikaanse high life-gitaarspel in
The Truth
wel nieuw. Hoe goed de tracks stuk voor stuk ook zijn, het is meer van hetzelfde. Voor wie Bobby Conn niet kent maakt dit natuurlijk niets uit en is
Macaroni
een prima plaat om mee te beginnen. "You want something easy, you want something cheesy? It's okay, macaroni." Conn is een fenomeen met het hart op de juiste plaats en verdient alleen al daarom 3 sterren. Beluister alvast
More Than You Need
in de
SoundCloud
.