Barbara Morgenstern - Doppelstern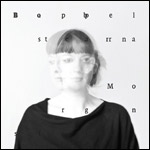 De Berlijnse singer-songschrijver Barbara Morgenstern maakte een paar zeer sterke platen vanaf haar debuut in 1998 (vernoemd naar haar favoriete synthesizer Vermona ET 6-1) tot pakweg 2005. Hoogtepunt was wat mij betreft
Nichts Muss
in 2003. Daarna viel ze helaas steeds meer in herhaling. Piano, zacht gezongen persoonlijke teksten, oude synthesizers en allerhande bliepjes en beats. Knappe elektropopliedjes, maar met iets te vaak dezelfde soort melodietjes en ritmes. Haar negende album
Sweet Silence
was zelfs zo saai dat ik hem maar een keer of twee heb gedraaid.
Misschien had ze zelf ook behoefte aan wat verandering van spijs.
Doppelstern
verrast met een hele rij artiesten, die zijn ingevlogen om mee te zingen of spelen. En niet de minste: Lucretia Dalt, Julia Kent, Gudrun Gut, Hauschka, Tonia Reeh, Jacaszek, Corey Dargel en natuurlijk Robert Lippok, waar ze al menige plaat mee opnam. De plaat begint meteen met de beste track,
Was Du Nicht Siehst
, die met de electrobeats van T. Raumschmiere is opgebouwd. Hij is te horen in de Soundcloud. Ook het voor de radio zeer geschikte poppy
Übermorgen
met Justus Köhnke staat in de Soundcloud.