(Polyvinyl / Sonic Rendezvous)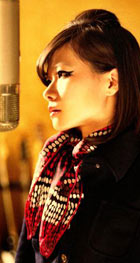 Zowel de door Vaughan Oliver ontworpen hoes als de dromerige
shoegazepop
wekken de indruk dat we hier met een typische 4AD-band te maken hebben. Herinneringen aan Lush, Belly en Cocteau Twins dringen zich al snel op. Toch zit Asobi Seksu bij Polyvinyl. Het New Yorkse duo, bestaande uit zangeres Yuki Chikudate en gitarist James Hanna, maakt nu al zo'n zes jaar vrolijke fuzzy
dreampop
.
Chikudate ontpopt zich vooral in de eerste paar nummers van hun vierde plaat als een Liz Fraser-adept. Helaas mist ze het krachtige geluid en unieke persoonlijkheid die de Schotse diva wél heeft. Daarnaast zingt Chikudate niet in geheimtaal, maar Engels, wat toch nog knap lastig te verstaan is omdat de zoete hoge vocalen meestal verzuipen in de galmende toetsen- en gitaarbrij. De bombastische plaat leunt erg op
sound
. Dat de liedjes compositorisch niet veel om het lijf hebben kan niet verhuld worden door de akkoorden in een mistige geluidswolk te hullen. Esthetiek gaat bij Asobi Seksu duidelijk voor het goed uitgewerkte idee.
In het persbericht wordt op kritiek alvast geanticipeerd: 'Don't overthink it. This time our agenda was to not have one at all, to be mellow about the process and not obsess over everything.' Hadden ze dat nu wél gedaan, dan was de plaat wellicht beter geworden. Nu weet de band de aandacht niet lang vast te houden. Maar als u aan mooie klanken genoeg heeft en ook Blonde Redhead in de kast heeft, zal u dat waarschijnlijk een worst wezen. Dan is het gewoon genieten van
Fluorescence
.