Kristina Grozeva en Petar Valchanov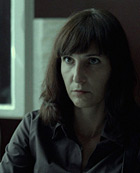 The Lesson van de Bulgaarse regisseurs Kristina Grozeva en Petar Valchanov wordt qua stijl (naturalistisch, onopgesmukt) wel vergeleken met het werk van een ander regieduo, de Belgische broers Dardenne. Maar het is niet alleen de stijl waar de overeenkomsten liggen, ook het aansnijden van morele kwesties hebben de twee duo's gemeen. En als er dan toch vergeleken moet worden: de Bulgaren doen niet voor de Belgen onder. Hun voor een appel en een ei gemaakte film - er was geen budget om alle medewerkers te betalen - heeft dan ook volkomen terecht al hier en daar wat prijzen gewonnen.

Hoofdpersoon is de lerares Nade, een controlfreak die zelfs haar eigen gevoelens niet verder laat komen dan haar ogen. Bovendien heeft ze een goed ontwikkeld gevoel van goed en kwaad, al is ze daarin misschien wat rechtlijnig - zoals meteen aan het begin van de film blijkt als ze probeert een diefstal op te helderen. Het lukt haar niet, en dat zit haar dwars. Vervolgens slaat het noodlot hard toe: er wordt beslag gelegd op haar huis omdat haar onbetrouwbare echtgenoot de hypotheek al maanden niet betaald heeft, en vervolgens gaat het van kwaad tot erger. Alles zit tegen, en bovendien kiest ze oplossingen die haar situatie alleen maar verergeren - en die haar uiteindelijk dwingen om dingen te doen die tegen haar morele principes ingaan.

De film (heel losjes gebaseerd op een ware gebeurtenis) is het eerste deel uit een trilogie over 'geld en moraal'. In het volgende deel doet hoofdrolspeelster Margita Gosheva ook weer mee, en dat alleen is al iets om naar vooruit te kijken. Ze is in The Lesson in vrijwel iedere scène aanwezig, en is in al die scènes volkomen geloofwaardig en vaak meer dan dat. Zou toch mooi zijn als deze film alsnog werd aangekocht voor distributie in Nederland.