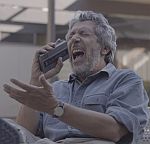 In het
Really? Really.
-surrealismeprogramma van het IFFR draait ook de film
Reality
, of eigenlijk
Réalité
- want van de Fransman Quentin Dupieux. De werkelijkheid waar het in deze film over gaat is overigens die van de droomwereld - en wel de droomwereld van het schoolmeisje Réalité, dat een van de centrale figuren uit de film is, samen met de cameraman Jason. Althans, dat is één interpretatie, want
Reality
is een echte
Ceçi n'est pas un pipe
-film, waarin van alles door elkaar loopt en de werkelijkheid van de een de droom van de ander is. Dat werk.
De film (die een beetje een jarentachtig-uitstraling heeft) ontwikkelt zich aanvankelijk wat traag, maar als Dupieux op een gegeven moment al zijn treintjes op de rails heeft, komt de vaart erin en wordt de film steeds maffer en leuker en onderhoudender. De centrale verhaallijn - if any - gaat over de speelfilmplannen van Jason, waar hij tot zijn verbazing een geldschieter voor weet te vinden. Maar vanaf het moment dat hij erachter komt dat zijn film (over moordzuchtige tv-apparaten) al gemaakt is en zelfs al in de bioscoop draait, blijkt niets meer wat het eerst leek. Of juist wel. En uiteindelijk komt alles dan toch nog samen. Ofzo. Misschien.
Wie
Reality
nog op het IFFR gaat zien, zal eerst nog door de voorfilm
Formales Gewissen
moeten bijten, een met de computer gemaakte animatie over de "verontrustende taferelen en gebeurtenissen die we elke dag (gedwongen worden te) zien". Het programma noemt ze "onvervalst verontrustend geniaal" - maar daar zal vast niet iedereen het mee eens zijn.