Changing Channels: I Hate Being Single
Cinerama 1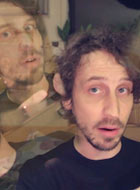 Wat tijd over voor of na uw geplande film in Cinerama? Ga dan eens in die leren fauteuil hangen in de
web lounge
in de foyer en kijk met de koptelefoon op naar
I Hate Being Single
. In acht afleveringen van 10 minuten volgen we hipster Rob en zijn relatieperikelen in Brooklyn NY. De types lijkt wel wat op die in
Portlandia
, maar waar die serie door te vet aangezette meligheid vaak juist niet grappig is, pakt schrijver en hoofdrolspeler, de komiek komiek Rob Michael Hugel, het beter aan.
De genante situaties die Rob zelf veroorzaakt hebben een hoog Larry David-gehalte (
Curb Your Enthusiasm
). Realistisch, herkenbaar, sneu, maar ook subtiel. Waag het niet om Rob een hipster te noemen; hij zal het meteen ontkennen. Hij heeft immers geen muziekinstrument en een fiets? Meteen krijgt hij door een vriend een oud keyboard in de handen gedrukt dat op weg was naar de
charity shop
. "For you, because you need it." Grappig toeval is dat hij uiterlijk wel wat lijkt op een jongere versie van (ook Joods) Micha Wertheim. Als je al fan was van
Flight of the Conchords
is deze serie een
must see
. De afleveringen worden elke dinsdag online geplaatst op
deze site
.