Peter Strickland
31-01-2013 12:30 Pathé 7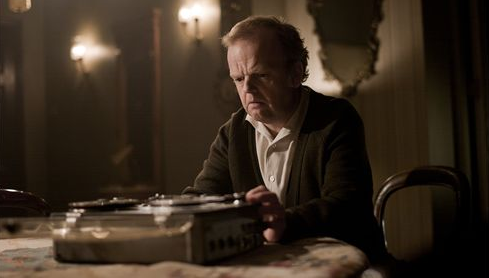 Omdat ik regisseur Peter Strickland heb geïnterviewd, heb ik
Berberian Sound Studio
twee keer gezien. En dan wordt bevestigd wat ik de eerste keer óók al vond: dit is een heel bijzondere film. Ik moet het dan ook oneens zijn met het
oordeel
van collega Marinus de Ruiter: het is wat mij betreft één van de hoogtepunten van dit IFFR. De film zit vol kleine details en grapjes de oplettende kijker, zoals de geluidsbanden met de mantelklok die de aan heimwee lijdende Gilderoy afdraait, en de onbedoelde woordgrapjes in de brieven van zijn moeder ('I hope you're coping allright with the food down there').
Strickland besloot om regisseur te worden na het zien (en hóren) van
Eraserhead
, en het is dan ook niet verwonderlijk dat
BSS
- meer nog dan het een ode is aan de Italiaanse giallo - de sfeer ademt van het werk van David Lynch (er is natuurlijk wel een directe lijn te trekken van bijvoorbeeld Dario Argento's
Suspiria
naar de droomwerelden van Lynch). Voor wie hem op het festival gemist heeft: de film zal eind april uitgebracht worden in de Nederlandse filmhuizen. Het interview met Strickland kunt tezijnertijd in Zone lezen.