26-01-2013 22:15 Luxor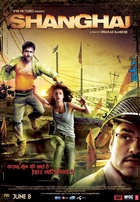 De bouwpraktijken in India doen aan China denken, niet alleen vanwege het rücksichtsloze tempo maar ook vanwege de corruptie waarmee ze vaak gepaard gaan. Het verklaart de titel van de thriller
Shanghai
, over de vervolging van een groep activisten die zich verzet tegen nieuwbouw voor een multinational in een Indiase provinciestad. Na een verdacht verkeersongeluk belandt hun leider op de intensive care.
De Chinese kunstenaar en architect Ai Weiwei, dit jaar jurylid bij de
Tiger Awards
, herkent zich ongetwijfeld in de Indiase speelfilm. Zelf moest hij een ingrijpende operatie ondergaan als gevolg van een confrontatie met de Chinese politie, die zijn onderzoek naar bouwschandalen dwarsboomde. Hij legde het vast in de onthutsende documentaire
Disturbing The Peace
, te zien op het YouTube-kanaal van IFFR.
Ai Weiwei wordt ernstig beperkt in zijn vrijheid door de Chinese overheid, waardoor hij via Skype moet communiceren met de overige juryleden in Rotterdam. Scenariste Urmi Juvekar van
Shanghai
kan gelukkig nog wel gewoon op het filmfestival aanwezig zijn. Met regisseur Dibakar Banerjee schreef ze een script dat losjes gebaseerd is op de Griekse roman
Z
, in 1969 verfilmd door Costa-Gavras.
Waar Juvekar zich vooral tegen verzet is de laconieke houding van het volk als het gaat om misstanden. 'It's normal to be corrupt', constateert ze tijdens de Q&A na afloop van de film. Terwijl gedupeerden in angst en wanhoop leven halen anderen hun schouders op. Een hopeloze situatie? 'Of course we have Bollywood so there is a lot of hope', sneert ze.
In plaats van zich te verzetten tegen de verblindende propagandamachine van Bollywood hebben de makers van
Shanghai
er handig gebruik van gemaakt. Beroemde Indiase acteurs zijn steeds meer op zoek naar uitdagende rollen die Bollywood niet kan bieden en daarom werken ze graag met regisseurs als Banerjee, ook al krijgen ze daarvoor minder geld.
Met
Shanghai
wil Banerjee laten zien wat corruptie op menselijk niveau aanricht. Dat de film een allerminst originele vorm heeft en het niveau van een doorsnee-thriller niet overstijgt is waarschijnlijk bewust: de regisseur wil vooral veel mensen bereiken met zijn boodschap en dat is een nobele ambitie.