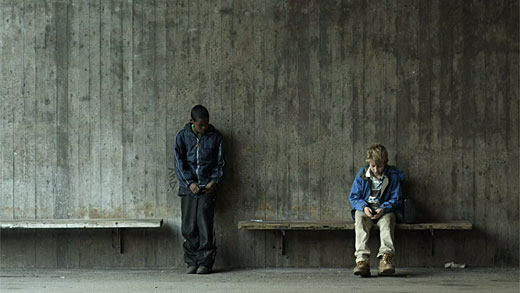 Net als in zijn eerdere speelfilm
Involuntary
kiest de Zweedse regisseur Ruben Östlund in opvolger
Play
het perspectief van de machteloze toeschouwer. Klein leed wordt op een bijna voyeuristische manier vastgelegd, alsof het beelden van een perfecte beveiligingscamera betreft.
We zien hoe drie jochies in een winkelcentrum geïndoctrineerd worden door een groepje oudere jongens, die erin slagen de drie op sleeptouw te nemen en ze langzaam van alle waardevolle spullen te beroven. Door het trage verloop van de film wordt de situatie steeds pijnlijker. Elk verzet van de slachtoffers wordt geroutineerd de kop ingedrukt door de aspirant-criminelen. Volwassenen lopen achteloos voorbij of doen alsof hun neus bloedt.
Met
Involuntary
had Östlund een geweldige vorm gevonden, die deed denken aan de lange, statische scènes van landgenoot Roy Andersson. De kijker voelde zich bijna medeplichtig aan uit de hand gelopen situaties, na drankmisbruik van minderjarige discomeisjes bijvoorbeeld, of tijdens een seksueel getint vrijgezellenweekend.
Play
is saaier, omdat hier maar één situatie uitgewerkt wordt. Maar het grootste bezwaar is dat Östlund zich ontpopt als Filmmaker Met Een Boodschap. Belangrijk detail is dat de daders zwart zijn, in tegenstelling tot de slachtoffers. Wil de regisseur ons bewust maken van politiek correcte sentimenten? Misschien dat dit in Scandinavië nog relevant is, maar in Rotterdam komt dit vooral over als overbodig en pedant.
Nog te zien op di 31-1 (22:30, P4), wo 1-2 (14:15, Schouwburg) en za 4-2 (22:30, P4)