IFFR XL
Cucosa, Raampoortstraat 16, Rotterdam (t/m 6 maart)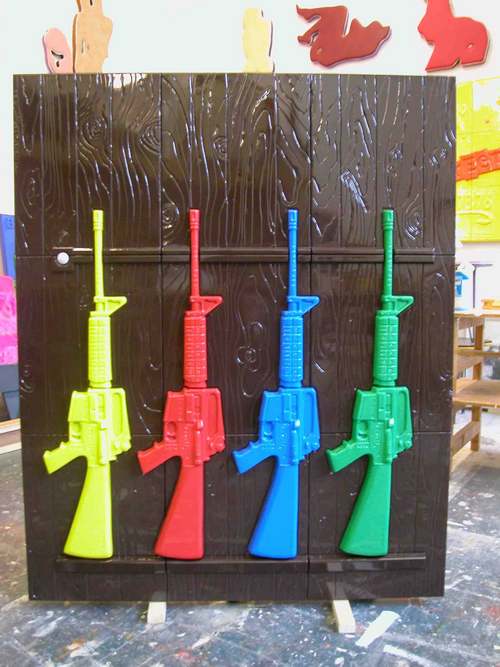 De groepsexpositie
Attraction of the Opposites
overbrugt drie belangrijke Rotterdamse evenementen: het zojuist afgeronde IFFR, het aankomende Art Rotterdam (10-13 februari) en de Rotterdamse Museumnacht (5 maart). Bezoekers van IFFR XL kregen al een voorproefje; de officiële opening is op 10 februari, vanaf 17.00.
In de industriële omgeving van de Rotterdamse hofbogen huist kunstruimte Cucosa, waarin 11 internationale galeriehouders tijdelijk hun gang mogen gaan. Zij tonen werk van in het totaal 25 hedendaagse kunstenaars. De aanstormende Rotterdamse galerist Bob Smit selecteerde bijvoorbeeld de plastic mitrailleurs van Rob van der Hoeven (
Family Values
, zie hierboven). De Londense Charlie Smith Gallery koos onder meer de videoserie
Safe Riots
van Alexis Milne (zie hieronder).
Attraction of the Opposites gaat officieel van start op 10 feb, van 17.00-1.00. Van 11 feb. t/m 4 mrt. is de tentoonstelling open op do-za van 13.00-18.00. Ook geopend tijdens Art Rotterdam (10-13 feb.) en de Rotterdamse Museumnacht (5 mrt., 20.00-2.00).