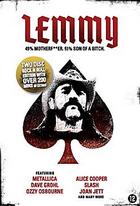 Bij een documentaire over Lemmy Kilmister weet je vooraf al dat het goed zit met de soundtrack. De man met de grote snor, dito wrat en schorre keel is namelijk zanger/bassist van Motörhead, dat sinds 1975 bijna elk jaar een plaat maakt met minstens één knaller. Een garantie dus voor anderhalf uur fijn harde rock-'n-roll. En iedereen die cool is vindt Lemmy cool, dus talking heads zijn ook geen probleem.
De tijd was rijp voor
Lemmy
, want Motörhead is langzaam opgewaardeerd van white-trash-herrie tot classic rock. De Britse band werd ooit gebombardeerd tot 'Worst Band in the World', maar dat deerde niet, want zoals ex-gitarist Fast Eddie het zegt: 'Kids were like, "I wanna see the worst band, they must be great!"'
Motörhead kan rekenen op trouwe fans, waaronder Metallica en Mötley Crüe. Lemmy woont al jaren bij zijn beroemde vrienden in L.A., waar hij vastgekleefd lijkt aan de trashy Sunset Strip. Daar wijdt hij zich naar hartenlust aan gokken, zuipen, roken, vrouwen en speed. Toch is hij allesbehalve een
asshole
; de documentaire laat overtuigend zien dat Lemmy eigenlijk heel lief is, een serieuze man met een passie voor oorlogsgeschiedenis. Wanneer Lemmy zijn gigantische collectie nazimessen toont en een Duitse tank beklimt in Sturmführer-uniform geloof je hem als hij zegt: 'Ik ben zo ver verwijderd van een neonazi als je maar kan bedenken. Als de Israëli's de mooiste uniforms hadden, dan had ik díe verzameld.'
Lemmy
ontstijgt de gemiddelde rockumentary vanwege Lemmy. Verder doet de film wat hij moet doen: vakkundig aandacht schenken aan ondergewaardeerde muziek.
Lemmy
verschijnt deze week op dubbel-dvd met Nederlandse ondertiteling en 200 minuten extra materiaal.