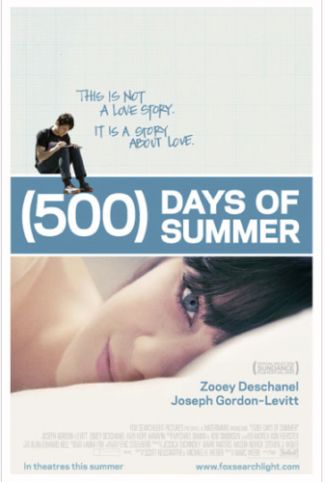 Tom (Joseph Gordon-Levitt) is het heilige geloof in het bestaan van de Ware nooit ontgroeid, Summer (Zooey Deschanel) vindt dat allemaal maar onzin en zit helemaal niet te wachten op een relatie. Toch krijgen ze 'iets' met elkaar en terwijl Tom hier een serieuze relatie in ziet, is Summer zich vooral aan het vermaken. Dat kan natuurlijk nooit goed aflopen, toch? Toegegeven, bovenstaande samenvatting riekt naar een doorsnee romantische comedy, maar 500 Days of Summer stijgt mijlenhoog boven dit ingeslapen genre uit. Wat een heerlijke, verfrissende film over de liefde heeft regisseur Marc Webb gemaakt.
500 Days of Summer snijdt een interessant aspect van liefdesrelaties aan: hoe herinneren we ons het verloop van de zojuist gestrande romance? Welk beeld koesteren we van onze ex-geliefde? Het zijn vragen waar de regisseur zichzelf in herkende. Webb schrijft er in de persmap bij de film het volgende over:

'At the time, I believed that love was a magic pill that would connect my soul to the universe and provide unending, effortless bliss. [...] Some people end up with their Summer. I did not. We broke up and I entered into this weird limbo - I couldn't shake that feeling that something had gone horribly, painfully wrong with the universe.'
Webb snijdt hier een ervaring aan die in het standaardstudiepakket van volwassenwording hoort te zitten. Door de unieke en originele verbeeldingskracht die de filmmakers tentoonstellen wordt deze universele ervaring in
500 Days of Summer
op een particuliere en zeer humoristische wijze verhaald. De film bewijst weer eens dat het recept tegen een gebroken hart uit een flinke dosis (zelf)spot bestaat.
Arsenaal
Webb, die eerder videoclips en korte films regisseerde, zet in dienst van het verhaal een breed arsenaal aan filmtechnieken in. Zo gebruikt hij splitscreen op het moment dat het paar net uit elkaar is. Zo kan het publiek getuige zijn van hun levens na de breuk. Iedereen vraagt zich in de eerste solodagen immers af wat zijn ex-geliefde aan het doen is (en met wie!).
Gelukkig wordt de film nergens zwaar op de hand: wanneer Tom en Summer voor het eerst het bed hebben gedeeld is hij in de zevende hemel. De euforie die hij ervaart wordt in een treffende sequentie in beeld gebracht. Onderweg naar zijn werk begroet Tom mensen uitbundig en wordt door iedereen opeens teruggegroet, alsof de wereld niet meer stuk kan. Webb gooit er nog een schepje bovenop door alle mensen op straat met Tom mee te laten dansen en om de grap compleet te maken fluit een geanimeerde vogel vrolijk en deuntje mee.
Roze flashback
Scenaristen Scott Neustadter en Michael H. Weber schreven op basis van eigen ervaringen een origineel verhaal dat niet-chronologisch in elkaar steekt. 'I don't want to get over her, I want to get her back!', roept Tom tegen zijn vrienden en wereldwijze zusje nadat hij door Summer aan de kant is gezet. Tom probeert zich te herinneren waar het precies misging in zijn relatie, derhalve vloeit de film van de ene herinneringen over in de andere, altijd weer terugkomend in het heden: de duistere dagen vol zelfmedelijden waarin Tom verkeert.
Zoals vaak het geval is met mensen met een gebroken hart stelt Tom zich het verleden in beginsel rooskleuriger voor dan dat het was. Als we in de film voor een tweede maal bepaalde gebeurtenissen te zien krijgen blijkt dat alles lang niet zo gezellig te zijn geweest dan een eerste blik deed vermoeden. De tweede terugblik gaat soms langer door, zodat we getuige zijn van hoe de stemming verzuurt. Hierdoor verliest de roze bril van Tom langzaam zijn kleur.
500 Days of Summer past naadloos in mijn rijtje favoriete Topfilms over de Liefde, waar High Fidelity (Stephen Frears, 2000), Almost Famous (Cameron Crowe, 2000) en Chasing Amy (Kevin Smith, 1997) ook in staan.
Vanaf 24 september in de bioscoop.
500 Days of Summer, USA 2009. Regie: Marc Webb. Met: Joseph Gordon-Levitt, Zooey Deschanel en Geoffrey Arend.