John Waters: 'Je moet jezelf blijven vernieuwen'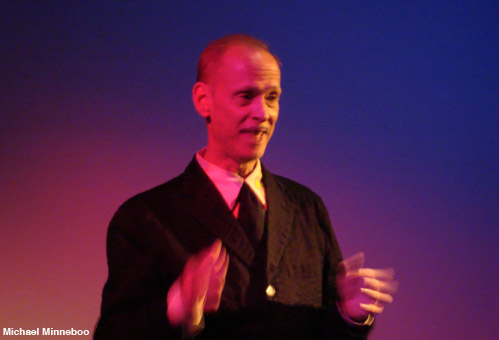 Filmmaker John Waters, aka The King of Trash, was in Nederland en liet zijn gezicht zien tijdens het BUT filmfestival in Breda en in de filmzaal van De Melkweg te Amsterdam, waar zondagavond zijn films Polyester (1981) en Pink Flamingos werden vertoond. Waters toonde zich een waar entertainer tijdens de Q&A die tussen de twee filmvertoningen plaats vond. Hij beantwoordde vragen van het publiek en lepelde enkele sappige anekdotes op uit zijn filmcarrière, die begon met zijn korte film Hag in a Black Leather Jacket uit 1964.
Waters is altijd een anarchistische filmmaker geweest die door middel van camp en shockerende scènes commentaar levert op de standaardwaarden van de Amerikaanse maatschappij. Waters maakte in 1981 de film Polyester voor het bescheiden budget van 300.000 dollar en vertelde met de film een totaal bizar verhaal dat een parodie moest zijn op de melodrama's van regisseur Douglas Sirk. Polyester is dan ook een satire op het familieleven in de suburbs, met dragqueen Divine in de hoofdrol. Divine, die in de verte iets wegheeft van Elizabeth Taylor met overgewicht, wordt door bijna iedereen in deze film op vreselijke wijze behandeld. Thuis is het ook al geen pretje voor deze moeder die haar leven volgens de christelijke waarden wil laten leiden: haar man is exploitant van een pornobioscoop en gaat vreemd met z'n secretaresse, haar zoon is een voetfetisjist die de voeten van vrouwen breekt door hard op ze te stampen en haar dochter is een losgeslagen, oversekste puber tot ze zwanger wordt en na haar abortus de edele kunst van het haken ontdekt.
Divine (Harris Glenn Milstead) speelde in veel films van Waters en was een jeugdvriend van de filmmaker. Waters woonde in dezelfde straat in Baltimore als Divine en ontmoette hem op 16-jarige leeftijd. De dikke jongen werd constant gepest en in elkaar geslagen om zijn verwijfde voorkomen. Volgens Waters werd Divine zelfs door zijn moeder gedwongen iedere avond d'r haar te doen. Misschien dat Polyster daarom zo'n verdraaid beeld geeft van een gemiddeld gezin in de suburbs, om te laten zien dat het daar niet zo vredig aan toegaat als dat men zou verwachten.
Een opvallende aanwezigheid in de cast van Polyester is filmster Tab Hunter. Hunter maakte furore in de jaren vijftig en was toen een waar idool. In Polyester speelt hij de rol van Todd Tomorrow die aanpapt met Divine om haar alimentatie in de wacht te slepen, terwijl hij eigenlijk een relatie heeft met haar moeder. Waters vertelde zondagavond dat Hunter zo onder de indruk was van Divine, dat hij later nog een andere film met hem in de hoofdrol produceerde.
Polyester heeft als special feature Odorama: tijdens sommige scènes komt er een cijfer in beeld. Dit cijfer correspondeerde met een speciale kaart die geursamples bevatte. Het publiek diende cijfertjes weg te krassen om zo de betreffende geur te kunnen ruiken. De gimmick was niet beschikbaar in de Melkweg zondagavond. Gelukkig maar, want bij vertoningen waar Odorama vroeger wel werd toegepast stonk de bioscoopzaal aan het einde van de film een uur in de wind van al die geurtjes. John Waters zou namelijk John Waters niet zijn als er niet wat nare odeurs in het palet zouden voorkomen.
Hairspray
In 2007 kwam de film Hairspray uit van regisseur Adam Shankman, met Hollywoodsterren als John Travolta en Michelle Pfeiffer in de hoofdrol. Tijdens de Q&A vertelde Waters dat hij zeer in zijn nopjes was met deze remake van zijn film en dat hij een synopsis voor een sequel heeft geschreven. 'Het verhaal gaat een compleet andere kant uit. Dat moet ook wel want je wilt altijd het publiek verrassen met iets nieuws. Daarbij is het verhaal van Hairspray is nu al drie keer verteld, in twee films en een broadway musical, hoog tijd dus voor een nieuwe wending.' De filmmaker achtte overigens de kans niet groot dat de filmproducenten dit nieuwe treatment zouden accepteren.
Klootzak
Iemand uit het publiek vroeg Waters of hij nog steeds de films maakt die hij graag wil maken. 'Ja, al moet je natuurlijk altijd concessies doen.' Zijn houding was wel veranderd, gaf hij toe: 'A 20 year old angry man is sexy, but an angry 60 year old is an asshole,' legde hij uit. Films als Polyester en Pink Flamingos zal hij nu ook niet meer maken. Al spreekt hij nog steeds met trots over het feit dat hij de scène waarin Divine hondenpoep eet in Pink Flamingos door de censuur kreeg. 'Ik vind het fantastisch dat ik ze gemaakt heb, maar die films heb ik dus al een keer gedaan. Je moet jezelf telkens opnieuw uitvinden en blijven vernieuwen.'
De regisseur van films als Cry Baby (1990) en Serial Mom (1994) werkt nu aan een kinderfilm, maar wel voor 'fucked up little children' gaf hij lachend toe. Waters vond het fijn dat ook jongere generaties in zijn films geïnteresseerd zijn. Zelf houdt hij die ook goed in de gaten, hij is nieuwsgierig naar wat jongeren uitspoken. Waters doet op dit moment een collegetoer door Amerika, getiteld This filthy world. 'Vroeger gebruikte ik de term trash om mijn films aan te duiden, maar dat woord is uit. Daarom noem ik het tegenwoordig filth wat ik maak.'
Warhol en Wood
Waters wordt wel eens vergeleken met kunstenaar Andy Warhol. Die vergelijking is ook niet zo gek: beide filmmakers maakten eigenzinnige films met een aparte sterrencast met daarin dragqueens en andere afwijkende types. Zoals Waters zegt: 'Warhol was de eerste die homo's en drugs in film toonde.' De twee heren hebben elkaar dan ook wel eens ontmoet. Warhol was zelfs zo onder de indruk van Pink Flamingos dat hij Federico Fellini mee naar de bioscoop nam om de film te laten zien. In het dagelijks leven wordt Waters wel eens voor Steve Buscemi aangezien. Qua gezicht en lichaamsbouw lijken de twee filmmakers/acteurs dan ook wel wat op elkaar. Wel verwonderlijk vond Waters die keer dat een stewardess hem voor filmmaker Ed Wood aan zag.
Underground cinema
Volgens Waters zijn er geen echte underground- en exploitatiefilms meer. Als die er al zijn dan zijn ze vooral online te zien. Probleem is daar wel dat het moeilijk is met online vertoning je geld te verdienen. Ook kun je veel minder makkelijk een sensatie creëren. Waters sprak zeer enthousiast over de horrorfilm The Final Destination die in 3D te zien is. Dit is wat hij tegenwoordig een exploitation film noemt. '3D is pure exploitatie. Ik vraag me dan ook af waarom ze geen 3D pornofilms maken.' Volgens Waters zijn er in het verleden wel pogingen gedaan om erotische films in 3D te maken, 'maar die waren een beetje mislukt. Met de huidige technieken zou je veel betere resultaten kunnen boeken.'
Het was een genot om Waters te horen praten. De man sprak in een rap tempo en vol enthousiasme. De Q&A duurde ruim een halfuur, waarna de filmmaker in het Theehuis nog even ging zitten om dingen te signeren.